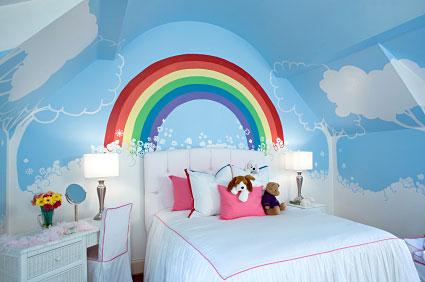 If you've planned on a particular theme for your baby's room, you might consider baby nursery murals. If you're not an artist, don't worry! There's plenty of room to incorporate a theme on your nursery's walls.
Artist for Hire!
If you simply can't imagine taking on a do-it-yourself mural project, you can always hire a professional to paint baby nursery murals for you. When you begin searching for an artist, you may only need to look in the classified section of your newspaper. Since most of these home decorating painters are self-employed, it is very likely that they advertise in a section of the classifieds. Be sure you ask for references, and check those references out!
If you don't have any luck searching through your local newspaper, plan on contacting a few paint stores and baby specialty shops. Often, artists-for-hire will leave their cards with these businesses, as well as photographic examples of their previous work. If the businesses know of the artist's quality firsthand, they should be glad to recommend one to you.
It's always best to get a couple of opinions, so try to contact at least two painters and ask for a consultation, which should include prices. You should also ask them how long it will take for the project to be completed, and don't forget to ask them how soon they can begin. The answers to these questions may be the deciding factors in your choice of artist. Be sure you convey exactly what you want on your baby's walls. You'll probably be paying top dollar, and you want to get your money's worth.
Project Your Picture!
If you want to save money by completing baby nursery murals on your own, but you are definitely not talented in the arts, you can still create a great wall picture. All you need is an overhead projector, along with the pattern or picture transposed onto a transparency.
If you have a friend or relative who is a teacher, ask them if you can borrow their projector. If not, see if a local rental company or office supply store will let you rent one for a day or so. If you don't know how to transfer a pattern to a transparency, take your pattern to a local copy shop or office supply store for help.
Once you have your transparency, you're ready to go. You should have already painted the nursery walls in the background color of your choice. Now, you can set up the overhead projector so that it projects the image onto the wall that you want to decorate. You can move the projector closer or farther away from the wall to adjust the size of the picture from smaller to larger. You can also raise and lower the projector until you have it centered exactly the way you like on the wall.
Once you have the picture focused on the wall, all you need to do is trace the outline of the picture with a pencil. It is always best to use a pencil, in case of any accidents. After you've traced the pattern, you can turn off the projector. All that is left for you to do is paint the nursery mural. If you copied the pattern from a colored picture, you can simply copy those same colors onto the wall. Of course, you can also use your own colors. Some people like to outline the finished product in a soft gray or black, following the pencil markings. This will enhance your colors.
Freehand It!
Finally, if you have a little artistic talent, what is wrong with freehanding your baby nursery murals? You're guaranteed a one-of-a-kind picture, and you get to be creative along the way! It's always better to begin your picture with a pencil drawing, though. That way if you don't like something, it is easy to change. Whatever method you choose to use in creating a lovely nursery mural, however, don't forget to have fun!
Related Baby Links