Buying and Using Baby Bottle Name Tags
For babies who go to daycare or an in-home babysitter, baby bottle name tags are an effective way to keep bottles with their rightful owner. Not only is keeping your child's belongings important for your budget but sharing bottles can also be cause for hygienic concern. Name tags help childcare providers keep everything from food and drink containers to clothing and shoes straight.
Benefits of Thorough Labeling
While babies and toddlers may not be as good at losing things as young children are, labeling your child's belongings is a great help to childcare providers. Whether your child attends a daycare with hundreds of other children or goes to someone else's home with one or two other children, your labels will save the caregivers plenty of headaches trying to remember which bottle belongs to which baby.
Labeling baby bottles is even more important than labeling clothing and toys. While hygiene is generally top-notch at daycare centers, it can certainly happen that a child with an infection or even a simple cold can spread that to other children if bottles for the formula-fed babies at the center accidentally get switched between feedings. Of course, your child will share these germs via air contact all day long, but more serious issues -such as oral yeast infections- can spread if a bottle is switched. Most daycares only sterilize bottles once a day; if a bottle is switched in the middle of the day, your child could be exposed to many types of germs.
For working mothers who breastfeed, personalized labels ensure that the breastmilk you bring to the daycare to be given to your baby will truly be given to your child, and not to another breastfed baby at the same center.
Dishwasher Safe Labels
While you can label your baby's bottles with any type of adhesive label, the benefit of purchasing specially-made baby bottle name tags is that these tags will stay on in the dishwasher which makes them much longer-lasting than mailing address labels or tying a string of a certain color around the neck of the bottle. The heat of a dishwasher is virtually the most extreme condition that your baby's bottles will face; if it is dishwasher safe, it is also extremely durable.
Initials Versus Names
Some parents find it scary to put their child's name in highly-visible places for fear of the child being kidnapped because a stranger can call them by name. While this is not an issue for babies if you would rather not get in the habit of labeling your child's belongings with his or her name, start right away with labels printed with his or her initials. Most label makers also offer the opportunity to put a graphic on the label and sell labels in many different colors. All of these options, combined with your child's initials, provide more than enough identifying information to ensure that your child drinks only from his or her own bottle when you are not around.
Ordering Baby Bottle Name Tags
Several online companies sell name tags for baby bottles and other baby accessories. Usually offered in sets of four labels, one set is more than enough for bottles that will leave the home. Ranging in cost from $10 to $15 per set, custom personalized labels are as affordable as they are practical.
InchBug
Specializing in labels, InchBug is the creator of the Original Orbit Label. All their labels are BPA free, dishwasher and microwave safe, and waterproof. The flat shipping rate for U.S. orders up to $75 is just under $4 and discounts for bulk orders from schools and daycares are available.
Choose from over ten colors for your 4-pack of Original Orbit Labels for around $13. You can also select up to two lines of text in one of three font options to customize the bands. Bands fit most bottles as well as sippy cups and sports bottles. The 3D Orbit Labels feature your choice of two colors and textured animal graphics for nearly $14.
Adhesive labels come in packs of 20 starting at just under $12 per pack. You choose from different shapes such as circle or rectangle and customize the colors, information, and graphics.
Name Bubbles
Name Bubbles features about nine different baby bottle label options. All their write-on styles are dishwasher and freezer safe and come with two different pens ideal for the product. Each label is also waterproof and laminated for long-term use. With Name Bubbles standard shipping on all U.S. orders is free.
Write-on labels come in your choice of round, square, or baby bottle shapes. The basic version features a "date" and "notes" section on eight labels for about $15. Personalized labels start around $20 and run up to $25 for 30.
Personalized shape labels come in a write-on version and a non-writing version. You choose from over 40 shapes such as an acorn or whale then select a color and font. You'll get 30 labels for around $20.
Sticky Monkey Labels
Daycare centers or medical facilities looking for detail-oriented write-on baby bottle labels can shop Sticky Monkey Labels. All their bottle labels are dishwasher, microwave, and freezer safe. They are also waterproof and rewritable.
Rectangle bottle labels come in size small for $16 or size large for $18 as a 16-pack. You choose the label border color and customize with your child's name at the top. The labels come with sections for the date, the number of ounces, and contents.
Curved and slim write-on labels fit around the collar of the bottle. The basic version comes in a 16-pack for $18 where you choose the border color. There are spots for the date, number of ounces, and contents, but not for baby's name. You can purchase a combo pack for $24 that includes separate round or rectangular name labels along with the collar labels.
Dr. Brown's
Dr. Brown's My Bands Labels are a type of bottle band that is dishwasher and microwave safe and BPA free. They are made to fit the Dr.Brown's brand baby bottles, but also fit many other bottles and sippy cups. Customers are directed to use a ballpoint pen to add baby's name to the bright bands with fun textured animal graphics. If you expose the label with pen markings to high heat, it will make the writing permanent. A 2-pack costs just under $5 and comes with your choice blue/orange, green/turquoise, purple/pink, or red/yellow labels.
3D Koala Labels
Snugaroos by 3D Koala Labels are personalized bottle and cup bands. A 2-pack costs just over $6 while a 3-pack runs just under $10. Choose from basic colors like pink, purple, orange, green and blue then select an optional icon such as a train or heart. Your child's name gets engraved on one side of the band labels that fit most baby bottles and sippy cups. All Snugaroos are dishwasher and microwave safe as well as phthalate and BPA free. U.S. orders over $20 get free shipping.
Whoozems
Whoozems are self-laminating labels that are semi-permanent thanks to a unique laminating flap that adheres to the label after you write your child's name on it. These non-toxic labels are dishwasher and microwave safe and come in 18-packs for under $10. For baby bottle labeling you can choose either the square Multipurpose Label or the rectangular Baby Bottle Label. Daycare centers have the option to purchase a wholesale pack of 150 labels for $30.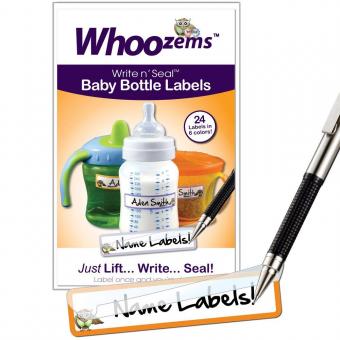 Colors and Graphics
Whether you choose baby pink labels with a butterfly or black and red labels with an alien graphic, the variety of companies offering personalized baby bottle name tags ensures that you can find virtually anything you might be looking for. Not only are name tags a cute accessory, but they are also one means of ensuring your child's safety when he or she is at baby daycare.