10 Adorable Haircut Styles for Baby Boys
Cute Looks for Every Boy
Babies are cute, but a well-chosen hairstyle can take any baby to next level adorable. Whether your little guy has a full head of locks or sparse growth, there's a cute haircut for him. Take your baby's hair type and head shape into account when choosing the perfect style that makes him look great and captures his personality.
The Rock Star
If your baby boy has a rock star attitude, this spiky 'do is fun and funky. You'll want a cut that's shorter on the sides and back with longer pieces up top near his face. When he wants to get a little wild, you can add some hair gel to help it take shape.
The Professional
Give your little guy a business casual look with a cut featuring long bangs that swoop to the side. This cut works best for boys with a bit of natural texture to the hair as those with sleek straight hair will have trouble keeping the bangs to the side.
The Cool Buzz
Active little boys need a cut that'll keep them cool after all that activity. A classic buzz cut or one with a bit of extra length on the top gets the job done. Little boys with thicker hair are ideal candidates for this cut.
The Controlled Curl
Boys with naturally curly hair can show off their unique set of locks with a style featuring tight curls. You'll want to keep a bit of length to achieve this look. To style, take small equal sections of hair and twist them around to form the curls. A bit of gel or hairspray can help hold them in place.
The Side Shave
Baby boys with thicker hair can rock this modern, natural look. Ask the stylist to keep an inch or two on the top and fade down into a closer shave as they get toward the ears.
The Modern Man
Give your favorite little guy a grown up look with this modern textured cut. Stylists can use texturing scissors to add volume to straight, fine hair and frame your boy's face.
The Curly Top
Let your little guy show off his curls with a shorter cut that highlights each swirl. Try to keep hair only about as long as it takes to naturally form one or two curls.
The Faux Hawk
Mohawks are for rebels, but faux hawks are for preppy boys who like to be noticed. Keep the hair around his crown longer and layered or textured so you can spike it up or wear it down.
The Wild Child
Let your little guy's locks grow out naturally and add a bit of shape to give them some definition. Boys with straight and curly hair can show off their relaxed personality with long bangs and a longer style.
The Fashion Model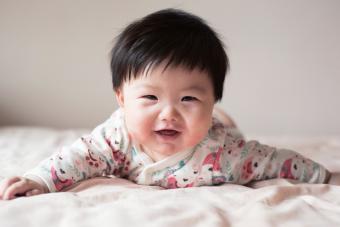 Start your future male model off early with a sleek, modern cut that looks straight off the pages of any baby magazine. Ask the stylist to keep longer pieces in front of your little guy's ears and texture the rest of his hair to get this sleek look.
There are so many types of haircuts for boys, it can be tough to choose which is the cutest. Look for a stylist who specializes in children's cuts to help you find the perfect 'do for your little dude.