Boy names that start with T are often very distinctive with unique meanings. You can find a great name for your baby boy when you explore the various boy names that start with T.
What Are Some Cool Boy Names That Start With T?
Everyone wants their little boy to have a cool name that other kids will envy. You can try your favorite ones to see if they fit your little guy.
Taavett: Beloved (Finnish)
Tabor: Drum (Hebrew)
Tadeo: Gift of God (Spanish)
Tag: Handsome (Irish)
Tage: Day (Danish)
Taggart: Son of priest (Irish)
Takoda: Friend to all (Native American)
Tanner: Leather Maker (English)
Tate: Cheerful (English)
Tavin: Royal staff, nickname for Gustav (French), (German)
Taylor: One who tailors clothing (English)
Thatcher: To thatch a roof (English)
Theo: God (Greek)
Titan: Giant, defender (Greek)
Titus, Tytus: Title of honor (Latin)
Torin: Chief (Irish)
Torne: son of Odd (Norse)
Trace: Fierce (Gaelic)
Trent: Lives by River Trent (British)
Trevor: Ambitious, industrious (Irish)
Trey: Three (French)
Trigg: Fair town (English)
Tripp: Triple, trip, traveler (English)
Tyree: Island off of Scotland (Scottish)
Tzvi: Deer (Hebrew)
Unique Boy Names That Start With T
Finding unique boy names that start with T is a good way to ensure your little guy has a name that will stand out. You can choose a great name for your baby boy that is unique and expresses his budding personality.
Tabib: Physician (Turkish)
Tad: Abbreviation of Thaddeus (English)
Tahbert: Smart, brilliant (German)
Tahu: Pure (Arabic)
Taim: Servant of God (Egyptian)
Tait: Cheerful (Irish)
Tal: Tall, dew (English), (Hebrew)
Talan, Talon: Bird claw (English)
Talbot: Destroyer of bad messages (English)
Taleb: Seeker (Arabic)
Tallon: Tall (English)
Talmadge: Person who wears knapsack or pack (English)
Talus: Son of Perdix, apprentice (Greek)
Tam: Honest, innocent, naïve, nickname for Thomas (Hebrew), (Scottish)
Tamim: Strong (Arabic)
Tamir: Tall (Hebrew)
Tande: Good teeth (Dutch)
Tandy: Manly (English)
Tarek, Tarik, Tariq: Morning Star (Arabic)
Tatum: Bringer of joy and cheer (English)
Tayden: Bright star, success (American)
Taylen: God is good (English)
Teagan, Teegan, Tegan: Little poet (Irish)
Ted: Gift of God, Nickname for Edward and Theodore (English)
Teddy: Divine gift, gift of God, Nickname for Edward and Theodore (English)
Tenton: From town by River Trent (English)
Tenzin: The holder of Buddha Dharma (Tibetan)
Teo: Gift of God (Greek)
Terence, Terrence, Terrance: Smooth (Latin)
Terrell: Stubborn (Anglo-Saxon)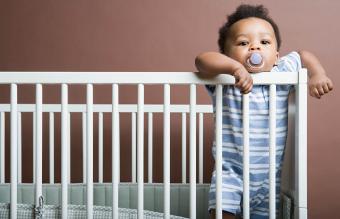 Boy Names That Start With T With Surprising Meanings
When you read what the boy names that start with T means, chances are you'll be surprised. You may know someone with the name you are considering, but don't know what the name means. You might just decide you love the name once you read the meaning.
Terry: Power of tribe (German)
Tevin: Handsome (Irish)
Thaddeus: Courageous heart (Greek)
Theodore: God's gift (Latin)
Theron: Hunter (Greek)
Thiago: May God protect, saint (Spanish)
Thomas: Twin (Greek)
Thor: God of thunder (Norse)
Thorin: Brave, one who dares (Norse)
Thornton: Thorn bush enclosure or settlement (Irish)
Tiago: Saint James (Spanish)
Tiberius: Near or of the Tiber River (Latin)
Tidus: Sun (Japanese)
Timmy: Honor God, nickname for Timothy (Greek)
Timothy: Honor God (Greek)
Timur: Iron (Mongolian)
Tobias: Goodness of God (Greek)
Tobin: God is good (Hebrew)
Toby: God is good (Hebrew)
Todd: Fox (English)
Tom: Innocence, the end (Hebrew)
Tomas: Twin (French)
Tommy: Twin (English)
Tony: Priceless, of inestimable worth (Latin)
Travis: Traverse, to cross (French)
Tre: Three (English)
Tremaine: Homestead or settlement (Cornish)
Trevon: Farm, settlement (English)
Treyson: The third son (English)
Tristan, Tristen, Tristian, Tristin: Bold (Welsh)
What Are Some More Great T Names for Boys?
There are still a lot more great names for you to consider for your little man. The boy names that start with T are a mixed bag of cultures that you can delve into and come up with the perfect one for your special baby boy.
Triston: Riot, noisy (Celtic)
Tristram: Noise, to clatter, bold (Welsh)
Triton: God of the sea (Greek)
Troy: City in ancient Greece, foot soldier (Greek), (Irish)
True: Strength of spear (English)
Truett: River bend (English)
Truman: Faithful man (English)
Tryon: Cautious, careful (Dutch)
Trystan: Noise, riot (Celtic)
Tucker: To torment, walker (English)
Turner: Maker of objects with lathe (French)
Ty, Tye: Eoghan's land (Irish)
Tyce: High spirited (French)
Tylan, Tylen: Gift from God (Hebrew)
Tyler: Doorkeeper of inn, tavern owner (English)
Tylor: son of Tye (English)
Tyrell: Stubborn, one who pulls (Scandinavian), (French)
Tyrese: Gift of God (Latin)
Tyron, Tyrone: Born of yew tree (Celtic)
Tyrus: Ancient Greek city coast of Black Sea (Greek)
Tyson: Firebrand (English)
Boy Names That Start With the Letter T Indian
You might wish to find an Indian name for your little guy. Many of the popular Hindi names are from ancient Sanskrit.
Tahj, Taj: Crown
Taksh: Lord Ganesha, strong
Tanmit: Friend of body
Tarang: A wave
Tahir: Holy
Tanish: Ambition
Tanuj: Son
Tapas: Sun
Tarak: Protector
Tarun: Young
Tejal: Bright
Boy Names That Start With T and Their Meanings
You can find a wide variety of boy names that start with T. The meanings for each and their origin culture can help you decide which one is your favorite.