Sweet Boy Names That Mean Love
These boy names all mean "love" and are actual names, not just the word for "love" in that language. While some might seem familiar, others could work well as unique boy names.
Amor (Latin)
Anbu (Tamil)
Caratacos (Celtic)
Caron (Welsh) - to love
Chikondi (Chewa)
Eros (Greek)
Kama (Sanskrit)
Lieber (Yiddish)
Lubos (Czech)
Lyuben (Bulgarian)
Medad (Biblical Hebrew)
Rudo (Shona)
Thando (Zulu) - to love
Words for Love in Different Languages to Use As Boy Names
If you want a truly uncommon name, consider repurposing the word for "love" in your favorite language as a name for your son. If you love exotic names for boys, this is a great option.
Agapi (Greek)
Amo (Esperanto)
Amore (Italian)
Amour (French)
Aroha (Maori)
Cinta (Indonesian)
Dragoste (Romanian)
Jacayl (Somali)
Karlek (Swedish)
Liebe (German)
Liefde (Afrikaans)
Milosc (Polish)
Uthando (Xhosa)
Boy Names That Mean Love and Something Else
Many boy names were created long ago by combining different ancient words. While you can find some ready-made names that mean love and strength, for example, you can also create your own by learning the etymology of words.
Agapealke - Greek words for love (agape) and strength (alke) combined
Balapreet - Sanskrit words for love (priti) and strength (bala) combined
Cargus - Ancient Celtic words for love (car) and strength (gus) combined
Lubomir - Czech name meaning love and peace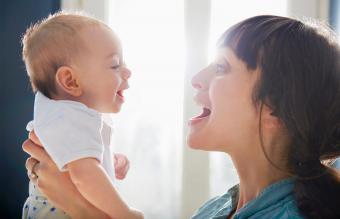 Names That Mean Loving or Affection for Boys
You can also search for names that mean other forms of "love" such as "lovable" or "affectionate."
Amabilis (Roman) - lovable
Amandus (Roman) - lovable
Amantius (Roman) - loving
Atif (Arabic) - affection
Atuf (Arabic) - loving
Carthach (Irish) - loving
Eustorgio (Italian) - good to love
Kealoha (Hawaiian) - the loved one
Philemon (Greek) - affectionate
Prem (Sanskrit) - affection
Wadud (Arabic) - affectionate
Masculine Names That Mean Beloved
Names that mean "beloved" can feel even more sentimental than names that mean "love."
Agapito (Italian)
Amatus (Roman)
Armas (Finnish)
Chandrakant (Sanskrit) - beloved by the moon
David (Hebrew)
Erasmus (Greek)
Habib (Arabic)
Leobwin (Germanic) - beloved friend
Leofric (Anglo-Saxon) - beloved ruler
Mudiwa (Shona)
Phil (English from Greek)
Philetus (Greek)
Names That Mean Love of God for Boys
You can find tons of Hebrew baby names, unique Biblical names, and even Christian names for boys that reflect a love of God or love from God.
Amadeus (Roman) - love of God
Amator (Roman) - lover of God
Carwyn (Welsh) - blessed love
Eldad (Hebrew) - God has loved
Goteleib (Germanic) - God beloved
Jedidiah (Hebrew) - beloved of God
Boy Names That Mean Heart
While they don't literally mean "love," names that mean "heart" give you the same sentiments.
Del (Persian)
Fuad (Arabic)
Hubert (Germanic) - bright heart
Hugh (Germanic)
Hughard (Germanic) - brave heart
Kamon (Thai)
Obi (Igbo)
Yolotl (Nahuatl)
Names of Gods Associated With Love
If you want a strong name for your little guy, try using the name of a god associated with love or other mythology name.
Aonghus - Irish God of love and youth
Bes - Egyptian god of love
Cupid - Roman god of love
Dipaka - alternate name for Kama, Hindu god of love
Dwyn - Celtic god of love
Kamadeva - Hindu god of human love
Kuni - Buddhist god of love
Yue Lao - Chinese god of love and marriage
Love in Many Languages
You can find a variety of names and words associated with love in every language on the planet. Give your little guy the feeling that he's loved by the entire world when you choose a globally inspired boy name that mean love.