80+ Spunky Tomboy Girl Names
Spirited Tomboy Girl Names to Fit Her Personality
A spunky name for your tomboy girl might be a nickname that fits her personality. Sometimes, spirited tomboys find their own nicknames.
Anders
Bailey
Blaine
Blake
Chandler
Codi
Cori
Ellison
Galen
Hadley
Harley
Harper
Hayden
Hunter
Jamie
Kasey
Kyle
Lane
Marley
Marlow
Parker
Piper
Quinn
Reagan
Riley
Romy
Rorie
Ryan
Sawyer
Scout
Sloane
Spencer
Taylor
Tyler
Waverly
Spunky Tomboy Girl Names Based on Places
Some cute spunky tomboy names from girls are the names of cities, towns and other places. If you want a truly cool name, consider one of these names.
Alabama
Arizona
Aspen
Austin
Avery
Brooklyn
Carrington
Cheyenne
Dakota
Dallas
Devon
Dover
Durham
Georgia
Indy
Jackson
Jordan
Langley
Lincoln
Macon
Madison
Montana
Montgomery
Nevada
Nash (Nashville)
Paris
Rio
Savannah
Shelby
Shiloh
Sierra
Skye
Sydney
Wells
York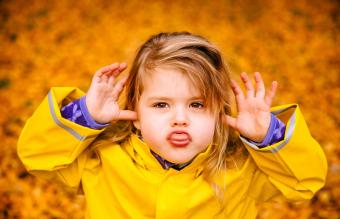 Girl Names With Tomboy Nicknames
Some girl names have nicknames that sound like a boy's name or are considered tomboy names. You can choose a girl's name for a baby's given name and then use the nickname for a spunky tomboy name.
Alex (Alexandra, Alexa or Alexis)
Charlie, Charli or Charlee (Charlene or Charlotte)
Dani (Danielle or Daniela)
Frankie (Francesca or Francine)
Harri (Harriet, Henriette or Henrietta)
Jess, Jesse or Jessie (Jessica)
Lou (Louise or Louisa)
Mel (Melissa, Melody, Melanie, Melinda, or Melina)
Nat (Natalie or Natalia)
Pat (Patricia, Patty or Patsy)
Ren (Rene)
Sam (Samantha)
Teddi (Theodora)
Toni (Antoinette)
Willie (Wilma or Wilhelmina)
Tomboy Girl Names Taken From Nature
A tomboy name for a girl can be taken from nature for a truly spunky name. You may decide it makes the perfect given name.
Ash
Autumn
Blaze
Blue
Clover
Colt
Coral
Dusty
Finch
Flint
Hawke
Ivy
Jade
Jae
Meadow
Phoenix
Poppy
Rain
Raven
Rhea
River
Sage
Sienna
Sparrow
Starling
Stone
Summer
Sunny
Willow
Wren
Spunky and Descriptive Tomboy Names for Your Girl
Review 80+ spunky and descriptive tomboy names to find the perfect one for your girl. You may need to try a few until the right one sticks!