Striking Korean Boy Names and Meanings
Popular Korean Boy Names
None of the top baby boy names in the U.S. are Korean, but you can find out which names are popular for boys in Korea. Traditional names in Korea typically include two to three elements. The first part of the name is the family name, like a last name. First names are written after the family name and usually include two syllables. In English these first names are hyphenated and made from two elements that each have separate meanings.
Boy Names Popular in Korea
Data from Korea is hard to come by, but these are reported as the top names for boys in Korea from 2015 and from 2017. Traditional Korean names are written in Hanja or the Hangul alphabet, but these are the common translations of those names.
Do-yun - path and allow
Ha-jun - great and talented
Ha-yoon - great and allow
Ji-ho - wisdom and greatness
Ji-hu - wisdom and later
Ji-yoo - wisdom and abundant
Joon-woo - handsome and divine intervention
Jun-seo - handsome and auspicious
Ju-won - circumference and origin
Min-jun - quick/gentle and handsome
Seo-jun - auspicious and handsome
Seo-yun - auspicious and sleek
Si-woo - begin and divine intervention
Ye-jun - talent and handsome
Yu-jun - friend/courage and handsome
Most Common Korean Boy Names
The most common names throughout the past several decades are the ones that were popular for a decade or more. Korean-American versions of these and other Korean names might eliminate the hyphen or have varied spellings where "oo" and "u" are interchangeable.
Dong-hyun - east and virtuous
Jeong-hoon - proper and rank
Ji-hoon - wisdom/purpose and rank
Jung-hoon - honest and rank
Han-gyeol - uniformity
Hyun- woo - virtuous and diving intervention
Sang-hoon - benevolent and rank
Sung-ho - successor and greatness
Sung-hoon - successor and rank
Sung-jin - successor and truth
Sung-min - successor and quick/gentle
Young-chul - eternal and firm
Young-ho - eternal and greatness
Young-soo - eternal and lifespan
Strong Korean Boy Names
Strong boy names in Korean include those with powerful meanings.
Beom-seok - like a rock
Bong - Phoenix
Chin-hae - depth of the ocean
Chul - iron
Chung-hee - righteous and dutiful
Daeshim - greatest mind
Hyun-ki - wise and astute
Kang-dae - mighty and strong
Korain - luminous and glorious
Kwan - one who is strong
Mal-chin - persists until the end
Sang-ook - one who is always well and healthy
Suk-chin - unshakable rock
Won-shik - head of the family
Yong-rae - hero coming
Yong-saeng - live forever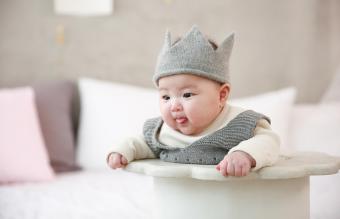 Unique Korean Boy Names
If you love Korean names, but want a unique baby boy name too, these options might hit the mark.
Byeong-ho - bright and great
Dae-jung - big and middle
Duri - two
Eun - kindness
Haneul - heaven
Hye - intelligent
Hyeon - virtuous
Il-seong - day and completed
Seok - stone
U-jin - universe and genuine
Korean City Names to Use As Boy Names
If you love Korean culture or want to honor where your ancestors came from, you could use Korean city and province names as uncommon first names for boys.
Boseong - tea farming capital of South Korea
Busan - South Korea's second largest city
Daejeon - city in central Korea
Jeju-Do - volcanic island off the coast of South Korea
Jinhae - city known for its cherry blossom festival
Seoul- capital of South Korea
Ulsan - small city in South Korea
Korean Celebrity Names for Boys
Famous Korean actors and musicians offer pop culture inspiration for Korean boy names. Famous Korean leaders and other professionals have great names you could also steal. You'll see that some Korean celebrities have traditional names, while others don't.
Eric - singer/songwriter Nam
Hyun - actor Bin
Jae/Jay - Musician Jae Park from Day6 or Rapper Jay Park
Jae-in - current leader of South Korea
Jimin - member of boy band BTS
Joon - K-Pop singer and actor Park
Jungkook - member of boy band BTS
Heong-min - record setting soccer player Son
Ken - actor Jeong
Kevin - singer/host Woo
Peniel - boy group BtoB member Shin
Suga - member of boy band BTS
Syngman - first President of South Korea Rhee
Tae-hwan - Olympic gold medal swimmer Park
Korean Names for Boys
Modern Korean names for boys can be traditional, Korean-American, or a combination of the two. Koreans are known for being adaptable and flexible about their names outside Korea. Many Koreans change their first names to more recognizable names or preferred to be called by their "American name" when living in America. Biblical names and one-syllable first names are good examples of Korean-American names or modernized Korean names. Many Korean names are gender neutral, so explore Korean girl names to get more ideas.