Strong American Boy Names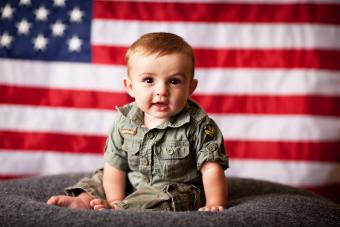 A lot of popular American boy names didn't originate in the USA. Despite this, if you want to choose a boy name for your son that represents American culture, the options are nearly limitless. From strong boy names that have withstood the test of time to invented trendy names, there's an all-American name for every little boy.
Most Popular Boy Names in the USA
Every year the Social Security Administration shares a list of the top baby names registered for that year. The latest data is from 2018 and includes these 20 names in order. You'll notice that many top names in America are Biblical names, and they have shorter nicknames to accompany them.
Liam
Noah
William (Will/Willie/Bill)
James (Jimmy)
Oliver (Ollie)
Benjamin (Ben/Benji)
Elijah (Eli)
Lucas (Luke)
Mason
Logan
Alexander (Alex)
Ethan
Jacob (Jake)
Michael (Mike)
Daniel (Dan/Danny)
Henry (Hank)
Jackson
Sebastian
Aiden
Matthew (Matt, Mattie)
Boy Names on the Rise in America
Naming trends like music names or royal baby names come and go in America. You can see the most current trends by checking out which names have risen the most from one year to the next. These are the boy names that have increased the most in popularity in the U.S. from 2017 to 2018. As you can see, current trends include unique names and unique spellings of popular names.
Common and Classic American Boy Names
One look at the Social Security Administration's list of the top names over the last 100 years will show you the most classic American boy names that have been popular throughout history. For some, these might seem like old-fashioned baby names, but others would call them classics. These names are usually shortened in everyday use, so the common nicknames are provided.
Andrew (Andy)
Anthony (Tony)
Charles (Charlie)
Christopher (Chris)
David (Dave)
Donald (Don/Donny)
John
Joseph (Joe)
Kenneth (Ken)
Mark
Paul
Richard (Dick)
Robert (Rob/Bob)
Steven (Steve)
Thomas (Tom/Tommy)
Unique All-American Names for Boys
Every year American parents in search of unique baby names search far and wide for uncommon name inspiration and even invent new names. These are some unique names about a dozen American parents chose in 2018.
Acari
Aeon
Alikai
Andriel
Baine
Bolton
Brookston
Copper
Dagan
Eizen
Franz
Hale
Izel
Jag
Jex
Kano
Kervens
Leor
Macklen
Neeko
Oakes
Park
Rhyett
Stiven
Trexton
Xyler
Yomar
Zale
Cool American Place and People Names Used as Boy Names
Names of American cities and landmarks or famous American last names are other options for strong American boy names. These names all fall in the Top 1,000 boy names from 2018 in the U.S. If you want a truly unique boy name that's all-American, consider your favorite places in America as names.
Boston - state capital of Massachusetts
Branson - city in Missouri
Dakota - state name from South Dakota and North Dakota
Denver - state capital of Colorado
Edison - American inventor Thomas
Ford - American car manufacturer Henry
Grant - famed U.S. general Ulysses S.
Hendrix - famed American musician Jimi
Houston - city in Texas
Hudson - American river
Jefferson - American President Thomas
Knox - famed U.S. Army fort
Lincoln - American President Abraham
Madden - famed American football coach John
Memphis - city in Tennessee
Orlando - city in Florida
Phoenix - capital of Arizona
Princeton - famed U.S. university
Remington - famed American firearm manufacturer
Stetson - famed U.S. cowboy hat brand
Original American Boy Names to Try
You can create your own cool American name by combining elements of popular names, using U.S. place names others aren't using, or finding ways to turn American slang words into names. Check out these original invented names that feel distinctly American.
Albany - capital of New York
Capone - famed American Gangster Al
Carnegie - famed American philanthropist Andrew
Dillinger - famed American gangster John
Graylan - combination of Grayson and names that end in "lan" like Dylan
Hartford - capital of Connecticut
Jamian - combination of James and Damian
Johnamin - combination of Johnathan and Benjamin
Lansing - capital of Michigan
Lucan - combination of Luca/Lucas and names that end in "an" like Aidan or Logan
Mikander - combination of Mike and Alexander
Naismith - Canadian-American James who invented basketball
Olmsted - American landscape architect Frederick Law
Twain - American writer Mark
Utah - U.S. State
Names for All-American boys
The only baby boy names that are of American origins are invented names and Native American names. However, there are dozens of names that sound American and are popular in the U.S. You won't need a pronunciation guide for most American boy names, and you can make them cool by choosing a middle name that's exotic or unique.