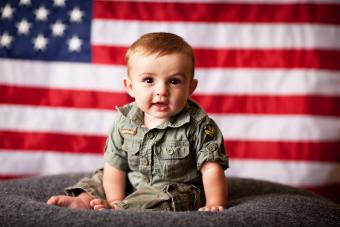 It's surprising to discover that many popular American boy names didn't originate in the USA. Despite this fact, if you want to choose an all-American boy name for your son that represents the country's culture, the options are nearly limitless. From classic and strong names that have withstood the test of time, to trendy and unique names that are certain to make a statement, there's bound to be a perfect moniker for your newest arrival.
Most Popular Boy Names in the USA
Every year, the Social Security Administration shares a list of the top baby names registered for that year. This list of American boy names is derived from the most recent name data collected in 2020 and includes 10 boy names American parents find appealing. It's also interesting to note that several top names in America are biblical names, and they have shorter nicknames to accompany them.
Liam
Noah
Oliver (Ollie)
Elijah (Eli)
William (Will/Willie/Bill)
James (Jimmy)
Benjamin (Ben/Benji)
Lucas (Luke)
Henry
Alexander (Alex)
Boy Names on the Rise in America
Naming trends like becoming inspired by music names or vibing with royal baby names come and go in America. You can see the most current trends by checking out which names have risen the most from one year to the next. These boy names might have once been unusual and rarely heard, but in more recent years parents have begun to gravitate to them. As you can see, naming trends over the last several years have shifted to include unique and cool American names for boys and monikers with interesting and unique spellings of popular names.
Archie
Baker
Benicio
Bode
Bowie
Cashton
Dakari
Genesis
Jaxtyn
Kairo
Kamdyn
Karsyn
Kenzo
Kylo
Mordechai
Onyx
Saint
Watson
Wells
Zaid
Classic and Common American Boy Names
A single glance at the Social Security Administration's list of the top names over the last 100 years will show you the most classic American baby boy names that have remained popular throughout history. For some parents, these choices might seem like old-fashioned or overly traditional American boy names, but others would refer to them as timeless classics. These names are commonly shortened in everyday use, so nicknames are provided.
Andrew (Andy)
Anthony (Tony)
Charles (Charlie)
Christopher (Chris)
David (Dave)
Donald (Don/Donny)
John
Joseph (Joe)
Kenneth (Ken)
Mark
Paul
Richard (Dick)
Robert (Rob/Bob)
Steven (Steve)
Thomas (Tom/Tommy)
Unique All-American Names for Boys
Every year, American parents search for rare and unique baby names that will set their son apart from the rest of the pack. By thinking outside of the naming box, combining elements of several names, referencing interests and pop culture, and channeling creativity and imagination, there is no end to the number of cool and unique American-inspired boy names for parents to choose from. Generic boy names simply won't cut it for fans of unique names like the ones that follow.
Acari
Aeon
Alikai
Andriel
Baine
Bolton
Brookston
Copper
Dagan
Eizen
Franz
Hale
Izel
Jag
Jex
Kano
Kervens
Leor
Macklen
Neeko
Oakes
Park
Rhyett
Stiven
Trexton
Xyler
Yomar
Zale
Cool American Names for Boys Inspired by People and Places
Names of cities and landmarks in the United States, and well-known last names are other options for famous American boy names. If you want a truly unique title to suit your son, consider the following list of American boy names.
Boston - State capital of Massachusetts
Branson - City in Missouri
Dakota - State name from South Dakota and North Dakota
Denver - State capital of Colorado
Edison - Inspired by American inventor Thomas Edison
Ford - Inspired by American car manufacturer Henry Ford
Grant - Inspired by famed U.S. General and President Ulysses S. Grant
Hendrix - Derived from American music legend Jimi Hendrix
Houston - City in Texas
Hudson - American river
Jefferson - Influenced by American President Thomas Jefferson
Knox - Inspired by U.S. Military Base Fort Knox
Lincoln - Inspired by American President Abraham Lincoln
Madden - Derived from famed American football coach John Madden
Memphis - City in Tennessee
Orlando - City in Florida
Phoenix - Capital of Arizona
Princeton - Prestigious U.S. university
Stetson - Famed U.S. cowboy hat brand
Original American Boy Names
You can create your own cool American name by combining elements of popular names, using lesser known locales in the U.S. or by finding ways to turn American slang words into names. Check out these original invented names that feel distinctly American. No common American boy names allowed here.
Albany - Capital of New York
Capone - Influenced by famed American Gangster Al Capone
Carnegie - Influenced by famed American philanthropist Andrew Carnegie
Dillinger - Influenced by famed American gangster John Dillinger
Graylan - Combination of Grayson and names that end in "lan" like Dylan
Hartford - Capital of Connecticut
Jamian - Combination of James and Damian
Johnamin - Combination of Johnathan and Benjamin
Lansing - Capital of Michigan
Lucan - Combination of Luca/Lucas and names that end in "an" like Aidan or Logan
Mikander - Combination of Mike and Alexander
Naismith - Canadian-American James who invented basketball
Olmsted - Derived from the name of American landscape architect Frederick Law Olmsted
Twain - Inspired by American writer Mark Twain
Utah - State in America
Names for All-American Boys
In truth, the only boy names with American origins are invented names and Native American names. That said, there are dozens of names that sound American and are considered popular by the parents in this country. Perks to choosing an American boy name are you likely won't need a pronunciation guide for most selections, and you can make traditional names cool by choosing a middle name that's exotic or unique. When deciding on your child's name, above all, be sure you love it, and remember your opinion matters more than anyone else's!