How to Play With Your Baby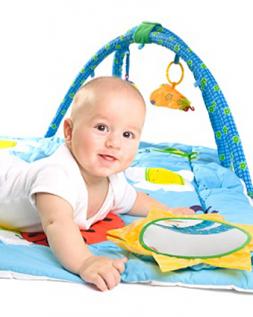 Many first-time parents are so consumed with learning how to care for a newborn that they do not think about planning or preparing for baby playtime activities. These types of activities can help your baby develop necessary motor and social skills, as well as provide an opportunity for you to bond with the newest member of the clan. Choose from several types of fun activities based on your baby's age and current developmental level.
Newborn to Three Months
Most newborns do little more than sleep and eat. If you are a new parent, you may feel overwhelmed learning how to adjust to the lack of sleep and additional hormones. Even though your main focus may be on setting up new routines, such as breastfeeding and bathing schedules, don't forget that playing helps improve his neurodevelopment.
Three to Six Months
When your baby reaches the three-month mark, she will typically be able to recognize your face and familiar objects. Some common developmental milestones between three and six months may include your baby learning how to support herself on her elbows, turn her head toward noises, grasp objects and sit up. Promote these milestones through fun activities and toys.
Six to Nine Months
When your little one reaches the six-month mark, she may have developed a sense of self that allows her to enjoy activities that are centered on her. She will probably start learning how to crawl at this age, and many babies make noises and enjoy banging on sound-making objects at this point as well. Parents and caregivers can promote these types of developmental milestones through activities that encourage movement and eye-hand coordination.
Nine Months to One Year
Between the nine month and one-year mark, your baby will probably learn how to pull herself up and begin standing. She is almost a toddler, and her infant phase of sleeping all day is behind her. Promote her alertness and curiosity with activities that encourage her to become more dexterous and agile.
Tips for Baby Playtime Activities
You don't have to buy every toy you see to ensure your baby will reach developmental milestones and goals. Simply use your creativity and make up games along the way. Your baby's reactions will let you know if she is entertained or engaged. If you must purchase some items, choose educational toys that your baby can use for at least six months or longer. Try to avoid using the television as a babysitter on a regular basis. Most babies should not watch TV until they reach the two-year mark.
Don't compare your baby to other babies - remember that every child develops at her own pace and you don't want to discourage her by sending her a vibe of disappointment or disapproval.