Sample Email Messages to Announce a Baby at Work
Announcing the arrival of a new baby or multiples can be a very special experience. Most new parents don't return to work immediately after the baby is born, so email announcements are a quick and efficient way to share the news with co-workers.
From the New Family
There are so many people to tell about the arrival of your new baby, it can seem impossible to make sure you share with everyone. Mass email messages can help spread the news to people who may not be visiting you in those first days, such as co-workers and acquaintances.
Simple Announcement Sample
A simple birth announcement is suitable for most workplaces and can be made in advance. Simply save the email and add the details and a photo once the baby is born.
To: All Staff
Subject: It's A Boy!:
Dear (Company Name) Team,
(Employee Name) and (Partner Name) wish to present the newest member of our family, (Baby's Full Name). Born on (Birth Date), he weighed (Birth Weight) and measured (Birth Height).
[Insert Photo of Baby]
Mom, dad, and baby are doing great and expect to arrive home on (Date). Visitors are welcome beginning (Date). Please call ahead before stopping by.
Thank you for sharing in this joyous news with us.
Sincerely,
The (Last Name) Family
Fun Example Announcement
To: All Staff
Subject: Free At Last
To Whom It May Concern,
In the early morning hours of (Birth Date), (Baby Name) made his/her great escape and joined (parent's names) at last. It wasn't easy, but all (Height & Weight) of him/her made it in extraordinary health.
[Insert Photo]
We are all exhausted and a bit overwhelmed with our new environment, but will gladly navigate this world as a family. Well-wishers are welcome to text or email (Name of Parent Employee).
Thankfully,
(Dad, Mom, and Baby Names)
Sample Adoption Announcement
To: All Staff
Subject: You're Hired!
Dear Work Family,
After evaluating our family unit, it was clear we were lacking in the sharing love department. So, we put out a call for qualified individuals to fill the position. At (Time) on (Date), (Baby Name) was selected from a pool of overqualified candidates to join our team. He/she boasts the following career highlights:
(Weight)
(Height)
(Hair Color)
(Eye Color)
(Age, if not a newborn)
Over the next several weeks, we will be working hard to train our newest recruit in snuggling, sleeping, and laughing. We ask that all visitors be planned in advance to work around our rigorous training program.
Finally Feeling Full,
(Parent's Names)
Example Cover Letter Announcement
To: All Staff
Subject: New Baby
Dear Sir/Madam:
Please accept this email and supporting photograph as an announcement of (Employee Name's) new baby. My name is (Baby First Name) and I was born on (Date) at (Time). I am currently (Height) inches tall and weigh (Weight). I have (Hair Color) hair and (Eye Color) eyes. Although my vision and ability to speak aren't fully developed, I look forward to meeting you in the near future.
I have attached my most recent photo for your review. I can be reached via email at (Parent Email Address), phone at (Parent Phone Number), or by mail at (Parent Address). Thank you for sharing this joyous news.
Sincerely,
(Baby Full Name)
On Behalf of the New Parents
The days after a baby is born can be overwhelming and exhausting for new parents. If the thought of sharing the joyous news with the world is too much to handle, new parents could ask a co-worker to announce baby's arrival at work.
Basic Sample Announcement
To: All Staff
Subject: Announcing the Arrival of (Baby's Full Name)
Greetings All,
(Employee Parent Name) and (Partner's Name) have granted me the honor of introducing you to their newest addition, baby boy/girl (Baby's Name).
(Baby's Name) Statistics:
Born on (Birth Date)
(Height) tall
(Weight)
[Insert Photo]
The proud new family is happy and healthy.
Warm Regards,
(Your Name), On Behalf of the (Parent's Last Name) Family
Sample Report Announcement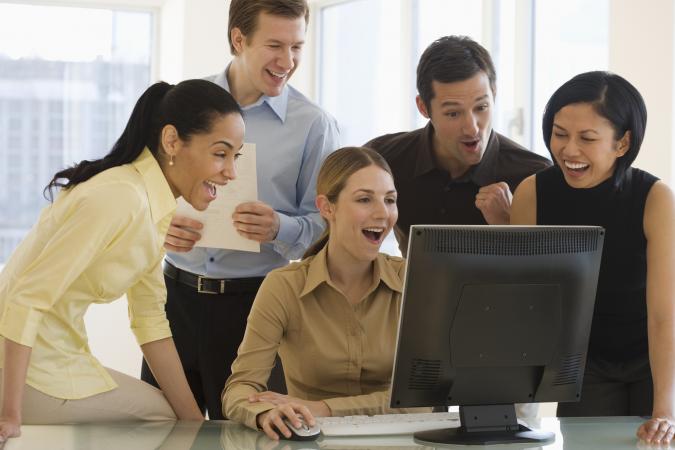 To: All Staff
Subject: Quarterly Update
Good Day Team,
On (Birth Date), we saw our best numbers as baby boy/girl (Baby's Full Name) joined our work family at (height and weight).
Proud parents, (Employee Parent Name) and his/her (Partner Title: husband, wife, etc.) asked me to share that their family couldn't be happier at this time.
The new family is expected home on (Date). They welcome visitors to their home but ask that you schedule a time in advance.
(Employee Parent Name) will rejoin us around (Date)
(Name of contact) from HR will be putting together a gift basket for the family, please see her by Friday if you wish to contribute.
With many thanks,
(Your Name) and the (Employee Parent's Last Name) Family
Television Commercial Announcement
To: All Staff
Subject: A Must-See!
On my honor as a new (Relation to Baby, like Aunt), I guarantee you have never seen anything as cute as (Baby Name)! This one-of-a-kind baby is (Weight) and (Height) inches of pure joy. If he/she doesn't bring a smile to your face, we'll give you a full refund of all the hugs, well-wishes, or gifts you gave him/her. Take a look at this adorable face, but be warned, you may never fall in love like this again!
(Insert Photo)
If this picture isn't enough to satisfy you, cards and gifts can be sent to (Home Address). Visits can be arranged via email with new mom/dad (Employee Name) at (Email Address).
Water Cooler Conversation Example
To: All Staff
Subject: Did You Hear?
Hey, did you hear (Employee Name) and his/her (Spouse, Partner, etc.), (Partner Name), had a baby?
(Insert Baby Photo)
Yeah, can you believe they had a boy/girl? Me neither! He/She was born (Day of Week Baby was Born), (Month and date). Yeah, this year! But, you know what's really crazy? He/She weighed (Weight)! I know, hard to believe, right? The best part is, they named him/her (Baby Full Name)! That's such a great name, I wish I thought of it. I'm putting together a gift basket to send over. Send a gift or card to (Email Author's Name) desk by (Date) if you want in.
Creating a Message
Writing a birth announcement email for co-workers is similar to writing a business email in that it should be professional and to-the-point. When you are generating a mass email for the workplace announcement, there are several factors to keep in mind:
Consider the tone of your workplace. A serious and professional office warrants a different type of message than an informal one.
Consult the new parents for what information they would like to share and only include those things.
Check with your boss to be sure you have permission to send out a mass email.
Be sure to send the email to everyone.
What to Include
Once you are sure it is OK to email an announcement to co-workers, know what information to include, and are clear on the tone of the email, you can start writing. Parents.com suggests baby announcements should include basic information about the family and reflect its personality. Workplace emails should be short and simple. Basic information people typically share on birth announcements include:
Parent names (starting with the person who works at the company you are emailing)
Baby's gender
Baby's name
Baby's birth date
Baby's height and weight
One short paragraph stating that parents and baby are doing well, and when they expect to be home, is also appropriate. If you have a close-knit workplace, you may also want to include information on when and how to visit the family.
Add a Photo
Seeing a picture of the new baby can help personalize the experience. When selecting a photo to share, What To Expect suggests opting for a close-up shot that is clear. Especially in an email to your workplace, too much information in the photo is not recommended. This means that shots of mom immediately after delivery or breast-feeding should not be included in such an email.
To add a picture to the email, you have three options:
Paste the photo into the body of the email, preferably after providing the stats. This would be the best choice for a workplace email since it is meant to be quick and concise.
Attach the picture to the email.
Include a link at the end of your email to a blog, Instagram account, or another photo sharing site. This would work better in an informal office setting where employees are very close.
Getting the Message Across
Sending your baby's birth announcement through email is a quick and easy way to let co-workers know your new baby has arrived. Whether you use a template or create a unique message, people generally appreciate the opportunity to share in your joyous news.