Template for Diaper Invitation
Be creative and use a cute template for a diaper invitation to invite guests to your baby shower. A template makes it much easier to create unique invitations that will impress your guests. When creating an invitation, be sure to check out printable templates, as well as websites, for great ideas on personalizing diaper invitations.
Free Printable Diaper Invitation Templates
Downloading and printing a diaper invitation is often the easiest and most affordable way to invite guests to your baby shower or gender reveal party without spending a lot of money. It also gives you the option to add whatever details you like from the convenience of your home. The free printable baby diaper invitation templates below include ones appropriate for a baby girl, baby boy, or a generic one that will work for either gender.
Click on the template that you want to download, and a download prompt will pop up. Download the file and then open it from your computer - it will open in Adobe and you can then customize the invitation before printing. If you need assistance, see these helpful tips. Each paper diaper template has specific instructions attached to it to help you with printing and assembly.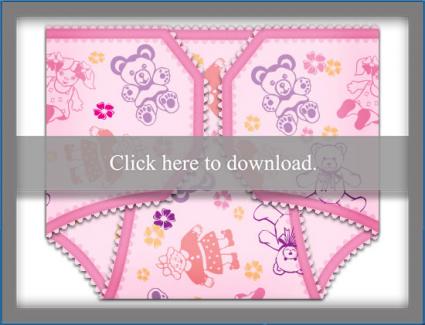 Online Invitation Templates
In addition to the above printable templates, there are many other unique diaper invitation templates for baby showers or gender reveal parties that can easily be found online. Whether you want to make a diaper invitation or even a diaper envelope for the invitation, templates are available for free on the following websites:
Special Touches
You can personalize any invitation template, even after printing it at home.
Paper and Envelopes
Beautiful papers in a wide variety of colors can be found at most craft stores. Experiment with different colors and textures for a truly unique invitation.
Envelopes may be created to fit a handmade card or they may be purchased at a craft store. Be sure the envelope is the right size for the finished card and can accommodate any embellishments you have placed on the card. Take one with you to the store to help you find the best fit.
Embellishments
People enjoy receiving invitations that are a little like a scrapbook page. Be sure to include interesting embellishments to personalize your invitations such as:
Real diaper pins
Miniature baby bottles
Tiny plastic babies
Bows and ribbon
Special Requests
You will also want to indicate on the invitation what type of shower you are throwing. You can state whether the shower is a specific theme or even a surprise. You may even add a request on the invitation for guests to bring a specific item, such as diapers or books.
Creative Diaper Template Uses
Diaper invitation templates can also be used in several other ways for baby showers.
Diaper-Shaped Shower Favors
Use one diaper template for baby shower favors or use them all to create a colorful display. Print the first page only of the invitation on white cardstock. Glue or tape the "leg holes" closed and fill with candies. Seal the top with tape or glue and display in a bowl as favors.
Diaper Thank You Cards
Print out the first page and the template only of the invitation that matches your baby's gender. Write a thank you note on the inside before folding it according to the directions. Put the card in an envelope and send out to thank guests for attending and giving gifts.
Diaper Shower Game
Use your favorite diaper template for a baby shower game called "Dirty or Clean?" Print out several copies of page one, about ten or so along with one folding template. Color yellow marker in the center of three diapers and brown marker in the center of three different diapers. Fold all ten diapers then number each on the outside. Display the diapers, number-side up, on a tray and have guests guess which are pee diapers (the yellow marker), which are poo diapers (the brown marker) and which are clean diapers. To make the game more fun, use scented markers.
Cricut Designs
Owners of the Cricut Explore, Cricut Explore Air, Cricut Explore Air 2, and Cricut Explore One machines can explore more fun creations with a diaper invitation template Cricut design. The "Cut What You Want Tool" from Cricut Design Space allows you to upload any of your own images or templates you have permission to use and convert them into shapes you can cut. First, you'll need to convert the PDF diaper templates into a JPG, GIF, PNG, BMP, SVG, or DXF file.
Mini Diaper Decorations
Decorate the shower with miniature diapers by turning the invitation template into a mini diaper cut out template. Print out the first page of the invitation. Use a ruler and pencil to mark one-inch in from each corner of the diaper template. Then make marks one-inch in from the edge lines in a few more places. Connect the marks following the lines of the template. Fold into a mini diaper. String miniature diapers together for a banner.
Easy and Impressive
Making a baby shower invitation is easy with a template for a diaper invitation. Simply download your favorite and customize it to your own liking. You can easily add a few embellishments to the diaper invitation and wow the recipients with your creativity.