Best Toddler Workbooks to Keep Their Development on Track
Updated October 6, 2021
We hope you enjoy the products we have selected for you. Our editorial team has independently curated this list, and you can find out more about our
review process here
. LoveToKnow may collect a commission on purchases made through the links below.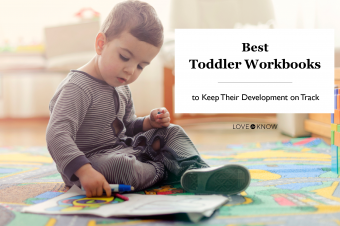 Support your little Einstein's educational journey before they reach kindergarten with several toddler workbooks designed to develop a love of learning and basic academic skills. With about a million different workbooks on the market, it's hard to know which are worth their salt. From reading to math to fun, these toddler workbooks will inspire young minds while assisting parents in their quest to raise budding geniuses.
The Best Toddler Workbooks to Support Little Learners
---
Highlights makes sure that learning is a blast with this workbook that introduces kids to essential academic skills, while teaching them that learning is fun.
Read more.
---
Learning is not limited to letters and numbers. Coloring is an important skill for toddlers to master!
Read more.
---
When it comes to practice making perfect, a book that has the ability to redo lessons over and over again is worth its weight in gold.
Read more.
A Workbook That Teaches Through Tracing
This workbook addresses the initial learning of shapes, letters, and numbers through tracing. The included exercises encourage fine motor skills and the recognition of basic concepts children need in time for kindergarten. It begins with tracing simple lines and moves through a developmental progression to more complex learning of letters and numbers.
What we like
The letters, numbers, and shapes are big, bold, and easily traceable
The book moves through a developmental sequence
Brightly colored pictures and pages
What to keep in mind
Many parents believed the book would be reusable via dry erase markers
Not much variation regarding the creativity of pages
More repetition per skill needed
A Workbook Based on Coloring
Most workbooks focus on learning letters and numbers, but for toddlers, learning encompasses far more! Coloring is a crucial skill to include in their lessons, as it focuses on fine motor skills and appropriate utensil grasp. My First Big Book of Coloring includes 200 pages of large images that enable kids to get creative. Images are outlined in heavy black to help kids learn how to control their coloring and stay within the lines. Pictures allow ample opportunities for parents and caregivers to teach the vocabulary of the images and extend the lesson far beyond the coloring itself.
What we like
Pictures are outlined in bold black
Made from high-quality paper
Plenty of pictures to color
What to keep in mind
Pages do not easily tear out
Due to its thickness, the book does not easily stay open during use
A Workbook Kids Can Use Over and Over Again
Learning should be fun, which is why an erasable workbook hits the mark with so many youngsters. Once they complete the lesson, they get to scrub the entire thing clean and start again, which is something new and exciting compared to traditional paper and pen workbooks. Reusable books are perfect for children who need more than a few cracks at a specific skill.
What we like
Work can be erased easily and done again
Pages easily wipe clean
Color and images are attractive
What to keep in mind
Lessons do not span several subjects
Multiple markers may need to be purchased, and they dry out quickly
Teaches So Many Critical Skills!
With 240 pages of lessons devoted to teaching tracing, phonics, letter recognition, rhyming, counting, sorting, and even science, your toddler will be at the top of their preschool class, no problem! The book includes 24 pages of stickers, which is great, because there is very little a toddler will not do for a sticker. It also comes with a completion certificate for children who make the grade.
What we like
Massive amount of worksheets for the price
Includes worksheets that span multiple subjects
What to keep in mind
Lessons can be overly simple for advanced toddlers
A Workbook Based on Math
Not all parents want to hit every subject right out of the gate. For these families, workbooks based on specific subjects might be a better fit. Other parents find that their kids tend to have a natural inclination to one subject over another. For them, workbooks based on areas of difficulty or weakness might be more appealing. Parents wanting their tots to hone in on mathematical skills will love the Preschool Math Workbook for Toddlers Ages 2-4.
What we like
Fun and educational
Touches on many key mathematical skills
What to keep in mind
Buyers have reported typing errors within the book
Some lessons may be too advanced for many toddlers
A Workbook Program That Does Development Right
The Kumon Grow to Know Tracing workbook is entirely devoted to mastering tracing and essential fine motor skills that kids will need to succeed in subsequent lessons. While many books give a crash course in several skills, devoting only a page or two to each, Kumon has developed an entire workbook for each skill, including tracing. This is an excellent book to start with if your child is very young and not quite ready to tackle letters, numbers, shapes, and higher-level lessons.
What we like
Completely dedicated to initial tracing and fine motor skills
Includes fun mazes
High-quality images
What to keep in mind
Kids can become bored without varying lessons and subject matters
A Workbook Based on Fun and Learning
Highlights has a solid reputation for being a favorite among both parents and kids when it comes to fun and learning. The Preschool Big Fun Workbook is all the things it claims to be. It is definitely big, featuring 250 included activity pages, and it is fun, with lots of mazes and puzzles, games, and matching activities for busy little minds.
From ABCs to counting, colors, patterns, and more, this workbook makes sure to cover just about everything a toddler and preschooler might need to start their educational journey right.
What we like
Leaves no educational stone unturned. So much is covered in this book.
It meshes learning with fun.
Very comprehensive, with 250 workbook pages
What to keep in mind
Lessons are designed for ages 3-5, so some of them might be too challenging for young kids.
When choosing a workbook for your young child, remember only to use developmentally appropriate selections. Look for workbooks that encourage your child by providing engaging lessons that will leave them feeling happy and confident, not frustrated and anxious. While it is key to begin learning the foundations of reading and writing early on, the single most important thing you can teach them during their toddler years is that learning is fun.