Swimming is not only a great physical exercise for toddlers, it's also proven to improve mental health, enhance family relationships, and provide consistent mood benefits. While splashing around the pool looks appealing to little ones, you might be overwhelmed with the options in swim equipment for your little ones. From the toddler's first dip to more water-based adventures, complete his gear with good, pool-ready swim aids.
Safety First Buoyancy Aids
Building the child's confidence in the water is your number one goal in teaching him how to swim. For a toddler to be receptive to learning, the first step is to make him feel safe while exploring the water world.
Life Jacket/Vest
While most kids resist with life vests because they are too restrictive around the neck, the Stearns Puddle Jumper® Life Jacket provides a solution for this. You can buy one for just under $20. These toddler floaties are US Coast Guard-approved jackets that fit comfortably in the chest without constricting the neck of the toddler. Simply put, they are armbands with mid-body support. Parents love this life jacket because it keeps their kids upright in the water. Also, the arm pieces that come along allow for free movement while keeping the child secured.
Slip the hands of your tot through the arm bands. Then fasten the buckle snaps at the back, and your child is ready to take a dip. The strap is fairly adjustable to fit the size of toddlers. There are also traditional swim vests you can choose from that are well worth the price.
Tube Trainer
Providing a full 360-degree floatation, this Learn-to-Swim™ Tube Trainer from POOLMASTER® is worth its price at less than $25. The tube trainer is composed of a ring buoy and a tank-top swim vest with security anchor strap between the legs to keep it in place. It permits the toddler to paddle freely, float upright, and practice front or back swimming.
What is exceptionally unique about this swimming device is its heavy-duty, 20-gauge vinyl air-filled tube encased in a polyester fabric. POOLMASTER® provides detailed tube trainer instructions on how to inflate, deflate, wash, and wear the swimming aid. You can adjust the amount of inflation gradually once your toddler shows independence in the water. Additionally, this tube trainer has an ultraviolet protection factor (UPF) 50 for an added sun protection. Parents highly recommend this product with an average of 4.5 out of 5 stars. POOLMASTER® has been providing good service to its customers for a long time as proven by a striking review from Poolcenter.com, which points out that this was a trusted swim aid 30 to 40 years ago.
Float Suits
A smart alternative to swim belts and life jackets to keep your toddler safe at the surface of the water while swimming, are float suits. The uniquely-shaped float panels are adjustable and evenly spaced around the child's core to fit comfortably around his body. As your child becomes more adept in the water, the floats can be detached one by one. Make sure the remaining floats are well-placed equally in the pockets to achieve balance.
Help your child develop his swimming techniques as this suit holds him in an optimal, horizontal swimming position. Aside from this, his arms are left free for a fuller and more enjoyable swimming experience. A float suit from Jojo Maman Bébé (priced around $50) will provide buoyancy with less restriction. Several reviewers on its official website attested that the suit fits very well, and is a great aid in helping toddlers become more independent swimmers. Amazon users agree on its good quality and fit.
Fun-in-the-Water Floatation Solutions
Water activities are best enjoyed when learning is done through the spirit of play. Once the youngster becomes more confident afloat and starts bragging with those kicking feet and clapping hands on the surface of the water, he's now ready to face new challenges.
Shark Fins
Just around $32, this durable, fin from SwimFin is a unique swim aid for toddlers. Because toddlers want action and excitement, they'll be interested to play sharks in the water. Make sure that your child achieves his sense of balance before weaning him to swim fins. Watch out for cues like bobbing, paddling, splashing, and long leg kicks.
These fins are comfortable and have elastic straps which fit any size. Worn on the back, they are ideal for front swimming. Customers from Amazon noted that this swim device is well-loved by kids. It allowed them to swim with their faces in the water without sinking. It was even featured on a British daytime TV program, This Morning, as an "Ultimate Summer Getaway Gadget."
Arm Bands/Float Discs
In the early stages of swimming, arm bands are the perfect choice until your little swimmer feels confident. This swim aid allows the child to breathe freely with his head above the water while enjoying the feel of the water down under. It also provides a stable and snug fit around his upper arms for more security.
An ingenious arm band concept from Zoggs is a non-blow-up swim band, which means that you don't have to deal with the hassle of inflating and deflating it with every use. (Toddlers have little patience for waiting.)
The float discs, priced at around $75 for a box of four, are designed for children aged two to six years old with up to a maximum weight of 25kg. This means that starting from the toddler years; this aid can be useful in his swimming lessons up until he reaches preschool age. Simply slide them on the child's arms, ideally two discs per arm and then wean him to one disc until he can swim by himself. It's safe as there's no risk of punctures. With a rating summary of 4.9 out of 5 stars from Wiggle.com customers, these float discs are parents' top choice.
Swim Belts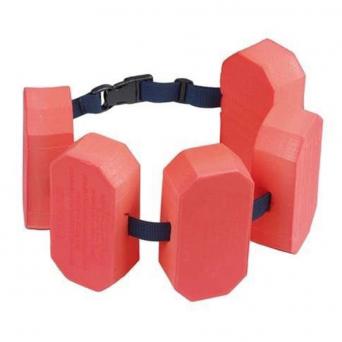 Also known as body belts, these floatation devices are a great way to progress from arm bands. While they aren't suitable for use for non-swimmers, swim belts allow full range of motion for both arms and legs. Children often get uncomfortable when something is placed on their arms. They feel restrained and tied up. Free movement means a more enjoyable experience for toddlers as they feel more independent in their choice of strokes.
This swim belt priced at approximately $46 from BECO-SEALIFE® (as pictured) is intended for toddlers who weigh 15 to 30kg. It comes with five polystyrene floats which you can gradually remove one by one once improvements are seen in the toddler. It helps in the vertical body position maintenance as well. It's worn around the waist and is easily adjustable using the belt band with a patented fastener. The belt comes with GS (Geprüfte Sicherheit) certification, which means that it meets the German and European safety requirements.
Safety Reminders for Parents
Helping toddlers learn how to swim doesn't solely rely on swimming aids. Your role as a parent is valuable in his safety and progress.
If it's the child's first time to be in the water, start familiarizing them in shallow water. When a toddler feels he can reach the ground with his feet, the feeling of fear goes away.

A supervising adult should be vigilant in watching the children at all times while in the pool.

Employ "touch supervision." This means the guardian must always keep her hands on the child or at least within arm's reach.

Always check for the size and weight recommendations of the swimming aid and try it on your child for right fitting.

Read special washing instructions from the manufacturer. Take good care of swim aids by rinsing them with fresh, cold water after use to get rid of the chlorine, then lay flat (if possible) to allow them to dry fully. Chlorine can contribute to the wear-and-tear of the products. Proper storage is equally important as well.

Periodically check straps for their tightness and snug fit.

Proper assessment of the child's abilities is important when selecting swimming equipment. Take note of cues which display progress. Confirm with a swimming instructor what types of aids are apt based on swimming development and child's needs.

Make sure you wean the toddler to more advanced floatation equipment once you see development. Children can get too reliant to one device which makes learning stagnant.

The overseeing adult should also know how to swim and how to spot swimming pool hazards.
Confidence in the Water
The child's first small splashes can be crucial. Take your time in choosing and monitoring the most appropriate swimming device for your toddler. Make him want to be just as happy in the water as he is on dry land and be prepared to witness how it finally happens - he's swimming.