Personalizing the nursery for a new baby can be fun and set the tone for his future interests. Baby boy nursery themes range from male-dominated fields like sports and construction to gender-neutral concepts like animals and children's characters. Explore baby boy nursery themes for your little bundle of joy.
Farm Boy Nursery Themes
Incorporating farm animals into a little guy's nursery is easy whether living in the city or the country. Wall colors in pale blue, light green, or soft browns can help give the room a classic nursery look while bold reds make the theme more modern.
1. Baby Barnyard
Baby Barnyard by Trend Lab is a trendy pick for farm themes. The neutral, pastel color scheme features soft yellows, greens, blues, and browns with a standard red barn alongside common farm animals. The four-piece crib set includes an appliquéd quilt, crib sheet, crib skirt, and bumper pads for under $175. Additional accessories like themed clocks, an animal mobile, window valances, and storage caddies are also available with prices ranging from around $20-$50.
Jungle Boy Nursery Themes
Nursery themes featuring jungle animals and patterns create a more exotic, adventurous atmosphere. Neutral wall colors help make jungle themes stand out, and adding a nursery mural to one wall can enhance the overall look.
4. Jungle Buddies
For just under $50, the incredibly affordable and sweet Jungle Buddies 4-Piece Crib Bedding set can instantly add wild style to any little boy's nursery. Included in the set are a comforter, printed crib sheet, crib skirt, and bumper set in bold greens, blues, yellows, and browns. The comforter features a large appliqué lion head along with other jungle animals.
12. Fire Truck
Accessorize your baby's room with fire trucks, fire hydrants, and dalmatian dogs. In addition to getting a fire truck sheet set, you can find accessories for around the nursery like a fire hydrant lamp and a dalmatian mobile. You might also buy a large area rug with a fire truck on it to round out the room. For crafty parents, you might try your hand at creating a dresser to look like a firetruck.
13. Aeroplanes
Future pilots and aviators will adore the subtle look of the Aeroplanes collection from Lolli Living. The 4-Piece Crib Bedding Set sells for under $160 and includes quilt, skirt, and two fitted crib sheets. The reversible quilt features graphics resembling drawings of airplanes on one side and a blueprint-inspired drawing of propellers on the other.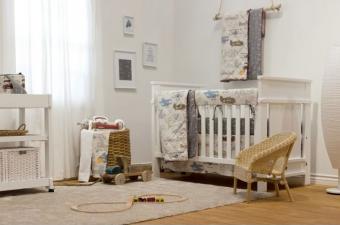 14. Space Galaxy
Sweet Jojo Designs has created the Space Galaxy collection to spark the inner explorer in even the youngest of astronauts. The 11-piece Crib Bedding Set retails for under $200 and comes with a comforter, crib sheet, crib skirt, diaper stacker, toy bag, two valances, a rocket pillow, and three wall hangings. The collection features deep blue backgrounds with brightly colored rocket ships and planets. Other decorative items from the collection include a hamper, lampshade, and changing pad cover. Each sells for under $40.
16. Wild West
The Wild West collection by Sweet Jojo Designs offers a classic western theme for little cowboys. For just under $200, the 11-piece set includes a quilted comforter, crib sheet, pillow, dust ruffle, two window valances, diaper stacker, toy bag, and three wall hangings. The entire collection pairs standard colors like cream, brown, blue, and red with patterns like a brown hide, red bandanna, and cowboy scene. Additional accessories like a mobile, curtains, changing pad, laundry bag, wall decals, and lampshades range in price from about $25-$55 each.
17. Cowboy Baby
For a set that's geared toward babies, cowboy theme to offer a classic look for little cowboys. Decorate the room in reds, blues, and browns. You can also add a cowboy mobile and hang cowboy pictures on the wall. Stock the bookshelf with classic wild west stories and maybe add a few 6 shooters and lassos on the wall perfect the theme.
Teddy Bears Baby Boy Nursery Themes
No theme is more universal for babies than teddy bears. Options range from whimsical to sophisticated and often feature shades of brown. Fill the room with stuffed bears your baby can enjoy as he grows.
18. Teddy Bear Chocolate
The Teddy Bear Chocolate bedding set by Sweet Jojo Designs fits into the sophisticated category. Light and dark browns contrasted with cream make up the color palette of this adorable set that showcases different teddy bears. Get 11 pieces including a crib blanket, sheet, crib skirt, decorative pillow, diaper stacker, toy bag, two valances, and three wall hangings for around $190.
19. Honey Bear
Looking for a fun bear theme? Think honey bear! Incorporate traditional brown teddies alongside bumblebees and honeypots as well as greens and blues from the sky and trees. For example, you could get bear sheets and a honey bear blanket. Accessorize with a honey bear mobile and possible stuffed bears around the room.
Character Boy Nursery Themes
Beloved and popular children's characters are so versatile, they work for little boys of all ages, growing with your child. In addition, it's generally easy to find character-themed knick-knacks for a fully decked out nursery your baby boy will love.
20. My Friend Pooh
Winnie-the-Pooh and his friends are arguably some of the most iconic characters for a nursery. The My Friend Pooh set from Disney combines the whimsical characters of the classic storybook with pale greens, yellows, and ivories. The 4-Piece set comes with a quilt, fitted sheet, crib skirt, and diaper stacker for just under $170. Room decor featuring Winnie the Pooh, Piglet, Eeyore, Tigger, Rabbit, Owl, Kanga, and Roo are very easy to come by, so coordinating an entire nursery will be no problem.
21. Mickey Mouse Best Buddies
Mickey Mouse has lots of friends, and they are all famous. The Mickey Mouse Best Buddies Crib Bedding Set showcases simple graphics like mouse ears along with Mickey and his best friend, Pluto, in a muted color palette of blues and grays. For under $100 the set comes with a comforter, sheet, crib skirt, and an organizational bin.
Nautical Themes for the Nursery
Themes featuring sea travel offer a quintessential look for boy nurseries because they tend to use blue tones. Features like ships and anchors can inspire the little sailor in any baby.
23. Ocean Surf
An ocean surf theme is an ideal option for those looking to mimic an island getaway. Painting the room in shades of brown and aqua blue gives that ocean vibe. Accent with Hawaiian leaf wall clings and possibly a few surfers riding waves on the walls. Round out your theme with an ocean themed mobile, trash bins, and curtains.
24. Nautical Nights
The Nautical Nights set provides a traditional nautical theme that features blues, whites, and reds combined with anchors, ship steering wheels, and sailboats. For under $200 the 11-piece crib set includes a sheet, crib skirt, comforter, pillow, two valances, toy bag, diaper stacker, and a set of three wall hangings. Everything needed to create some little sailor's delight comes in one cute collection.
25. Baby Buccaneer
Set sail with the Baby Buccaneer Set from NoJo. This whimsical pirate ship theme features blue tones along with typical pirate graphics like a ship and pirate monkey. Included for just under $35 are a comforter, printed crib sheet, and striped dust ruffle. Add to the room theme with animals or nautical decor.
26. Fish Theme
Get nautical with a fun fish theme for your little swimmer. Start off this theme by creating a nautical fish theme for the bedding by adding sheets, blankets, and skirts with fish or in blue hews. Find fish-themed trash bins, mobile, and framed pictures to add to the walls. You might also add a fish-themed throw to decorate the rocker. Possibly add a wall cling fishing pole with a fish on the end. You might also use wall clings to add your little guy's name.
Sports Baby Nursery Themes
For future athletes, a sports theme can be ideal. Choose a specific sport like baseball or football for a more focused nursery or opt for an overall athletic feel with decorative items that feature a variety of sporting equipment.
27. Future All-Star
The Future All-Star Collection features muted tones of blue, brown, and red with adorable animals holding different kinds of sports balls. The four-Piece Crib Set comes with a sheet, crib skirt, quilt, and diaper stacker for around $140. You can find other coordinating accessories, ranging from sports rugs to baseball glove clocks, online or in stores.
28. Sports Star
Deeper green, blue and burgundy take center stage alongside large sports balls in the Belle Sports Star 3-Piece Crib Bedding Set. The collection comes with a fitted sheet, crib skirt and quilt for around $60. Sports themes are so popular, it should be easy to find additional accessories to finish off this nursery theme.
Modern Themes for Boy Rooms
Are you looking for a more modern theme for your little guy. Then you might try some of these fun themes that have a more modern feel.
29. Abstract Designs
Get creative with your nursery by starting with fun abstract shapes on the walls or framed abstract art. Follow the color scheme of your art into the sheets and blankets of the bedding. For example, you might have bright reds and blues for your bedding or more muted tones. Keep your artist's movement rolling by creating a mobile of geometric shapes. You can even include colorful dressers, curtains, and rugs with this theme.
30. Pop Color Boy Nursery Themes
Think bright bold colors with interesting geometric lines and you'll have this theme in the bag. For the bedding, choose a bold pattern or geometric one-color design. Add popular graphics and patterns to the wall, along with bold colored dressers and wall art.
31. Minimalist Mountain Range
When you are going for a minimalist design, you want to think simple. Look for a simple white crib and sheets, along with a white dresser. Decorate the walls in pastel triangle-shaped mountains. Add a few stuffed animals around the room, but don't go overboard to maintain the minimalist feel.
Big Ideas For Little Boys
Decorations for a baby boy's nursery can show off the parent's personality or feature something he will likely love in the future. Choosing a theme that you can update easily as your little guy grows will help save money and make the most of the time and energy that were already put into decorating.