Beyond Traditional Baby Girl Nursery Themes
More Than Pink for Girls
Though pink nurseries are some of the most popular choices for baby girls, there are several different color schemes and themes you can use even without going into more traditionally gender-neutral grays, grass greens, and sunny yellows. Try coral, mint green, white, purple, or even touches of soft blue. Flowers and hearts are also seen often in girls' nurseries, but the theme possibilities are endless. If you see a nursery you like, click the image for more details.
Modern Meets Traditional
Coral and gray may be an unexpected combination for a little girl's nursery, but they work so well together. This Lambs & Ivy nursery set has the sweetness and tradition of hearts with a modern color scheme. The white and gold help keep the look fresh and vibrant and add a beautiful contrast.
Unicorns, Mint Green, and Dreams
More Details
Add a touch of magic to the nursery with a unicorn theme couched in mystical mint green and dreamy white. This set has a vibrant, whimsical touch without being overwhelming. A few additional pops of color (your choice) here and there will add a personal touch and turn it into a room she'll love even after she's outgrown the crib.
Adorable Southwestern Style
More Details
This Lambs & Ivy Little Spirit collection combines teal, coral, white, and gray with an adorable southwestern theme that's out of the ordinary for a nursery. Pale blue walls (plus the decal, of course) with textured, neutral-toned accents tie this all together, and the collection makes sure all the other details are covered, from the fox mobile to the coral lamp that fits the theme perfectly.
Lavender Butterflies
Purple is a little less predictable than pink for a baby girl's room, and butterflies make this theme even sweeter. When the purple is paired with white and/or silver, the whole room is fit for a princess. Even the sheets are covered in butterflies and flowers in shades of purple and blue. Butterfly wall decals take things up one notch further, and finishing touches like the lavender valance and butterfly lamp turn it into a soothing, well-designed space for baby and her parents.
Touches of Blue
More Details
Think blue is just for boys? Think again. When paired with ruffles or a sparkling chandelier, it can be perfect for girls, too! You can also have fun with the pictures on the wall and go for images of dolls, flowers, butterflies, female superheroes, or anything else you like. Make them colorful and bright or do something similar to the ones shown here in black and white for a more visually soothing look.
Monochromatic Designs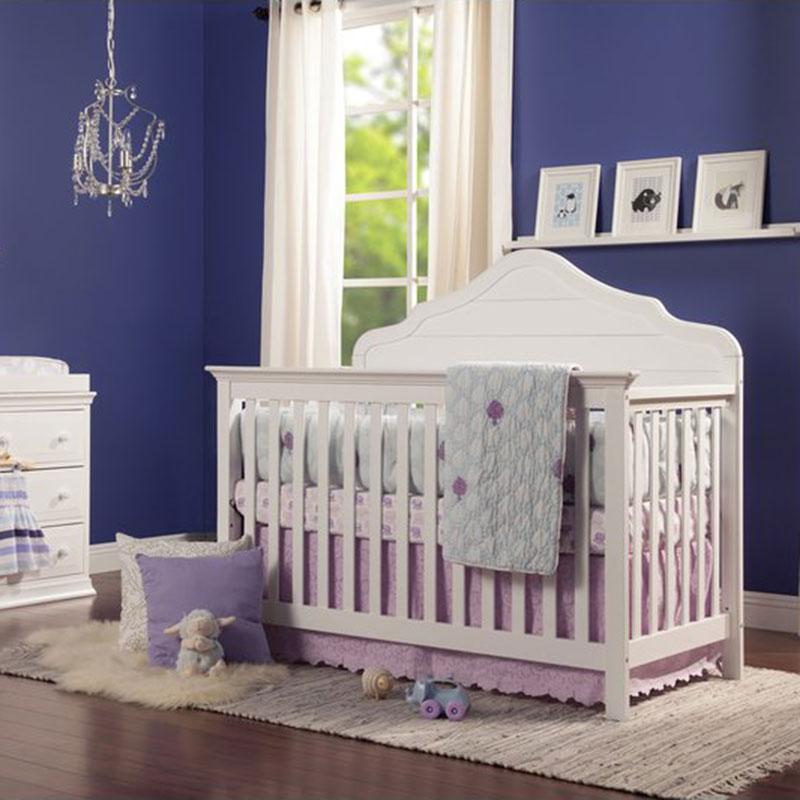 More Details
A deep color on the walls makes the white trim pop and adds a dramatic background for a lighter crib with pastel bedding. An almost monochromatic look is relaxed and peaceful, but not boring or babyish, so your little girl can enjoy the same color scheme for years. The crib shown here is a 4-in-1 design that will grow with her, too, so you'll even get more use out of the bedding.
Pops of Bright Color
More Details
A room with pops of hot pink, black, white, and orange may be just what you're looking for if you like the idea of neutrals, but want something eye-catching, too. Accent with gold or silver and keep the attention-grabbing color limited to the floor and furniture accents to make a statement with your nursery decor. This is a light, bright, and cheerful option.
Peaceful Lovebirds
More Details
You can't go wrong with a combination of aqua, purple, pink, white, and lovebirds for a baby girl's nursery. This 10-piece Pam Grace Creations set promotes a peaceful vibe and comes with a quilt, bed sheets, bed skirt, decorative bunting, a tote bag, a musical mobile, and more.
Wild Child
More Details
The cheetah print from Sweet Jojo Designs pairs up with pink in almost every piece, from the bedding to the lamp shade. This collection has a lot of items that other collections may not always have, like a hamper, changing pad cover, and memo boards. It ensures all the bases are covered, which is great for parents who don't want to piece something together across several different stores and brands. This one takes care of all the details for you.
One Step Away from Pink
More Details
Peach is just one step away from pink, but it's a little unexpected and still looks wonderful with white or any wood tones. This floral set has the print you may have always dreamed of and a warm, girly accent shade that somehow looks modern and classic all at one time. Choose between a two-, three-, or four-piece set that consists of a crib rail cover, sheet, skirt, and blanket.
Bright, Bold, and Patterned
More Details
If you were hoping for the brightest, boldest, hot pink inspiration with a few other colors thrown into the mix, this is your nursery theme. The Chevron Sunnyside Up collection will look great with any crib (white, black, any type of wood finish), and if you want to paint the walls pink, this set will fit right in. Not all of the patterns and colors in this set are as bright and attention-grabbing as the chevron one (you also get white pique, yellow polka dot, and solid yellow fabrics), but they all complement each other for a combination that's colorful without being too loud.
There are so many options for baby girls' nurseries. Have fun decorating and creating the perfect spot for your little one.