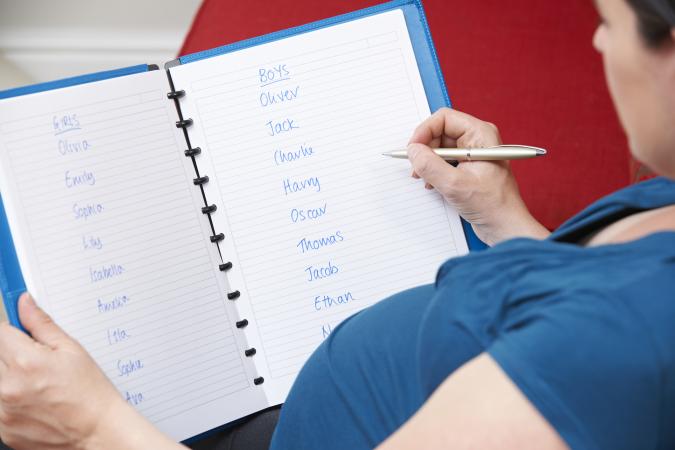 Baby name books feature thousands of popular, lesser known and made-up names for kids from around the world. New parents use books to look for names categorized by meaning, popularity and associated personality traits.
The Baby Name Wizard
The Baby Name Wizard, Revised 3rd Edition: A Magical Method for Finding the Perfect Name for Your Baby by Laura Wattenberg is anything but your traditional name dictionary. The 3rd edition was published in 2013 and features over 500 pages. Wattenberg uses computer models based on her research to look at how often names are used and their popularity in the past and present. This innovative mathematical approach offers readers valuable information on which baby names are more common than others. The "buyer's guide" style, popularity graphs and sibling naming suggestions, make The Baby Name Wizard a favorite among readers and professionals.
Accolades for The Baby Name Wizard include:
Grab a paperback copy for under $15 and find more up-to-date data and information on the Baby Name Wizard website.
100,000 + Baby Names
Bruce Lansky is the number one author of baby name books in America with over seven million copies sold of his numerous naming books. 100,000 + Baby Names: The Most Complete Baby Name Book features almost 700 pages including hundreds of specified name lists. Published in 2015, Lansky's latest book highlights naming trends including the current Top 100 boy and girl names along with detailed data on usage of gender-neutral names. The introduction encourages readers to do more than just read the book and offers fun ways to go about choosing a baby name.
BabyHQ named 100,000+ Baby Names to its Top 5 list, and it is a Top 5 best-selling baby name book on Barnes & Noble and Amazon. A paperback copy costs just under $13.
Cool Names for Babies
Cool Names for Babies, the revised and updated version, by Pamela Redmond Satran and Linda Rosenkrantz is one of many groundbreaking books about baby names by this power duo. Satran and Rosenkrantz are the best-selling authors and baby-naming experts behind ten different books that have sold over one million copies. They are also the faces behind the website, Nameberry.com. This second version of Cool Names for Babies is published in 2008 and is much lighter than other naming books, with about 200 pages. The witty, sarcastic tone of the authors makes this a fun read.
Following trend data, Cool Names for Babies gives you names you've never heard of in fun categories like "Coolest Flower Name" and "Coolest Poet Name" while also showing how they became cool. Get your paperback copy of this acclaimed baby naming book for around $10.
Named to VeryWell Top 13 Baby Name Book List
Selection in the Care.com Top 5 list
Featured as a Top 50 best seller at Barnes & Noble
The Name Book
Author Dorothy Astoria delights traditional-name lovers with The Name Book: Over 10,000 Names - Their Meanings, Origins, and Spiritual Significance. Featured as one of Baby HQ's Top 5 baby name books, this book has a heavy Christian focus. There are no long descriptions on how to use the book or pick the name; the book starts right with baby names. Each name is paired with its spiritual meaning, a note about whether it's used in the Bible, and a corresponding verse of Scripture. In just over 300 pages, readers looking for traditional names are sure to find something meaningful.
Published in 2008, The Name Book is still a best seller at Barnes & Noble and Amazon. You can get a paperback copy for around $10.
The One in a Million Baby Name Book
Author Jennifer Moss offers a comprehensive guide to finding the right baby name in One-in-a-Million Baby Name Book: The BabyNames.com Guide to Choosing the Best Name for Your New Arrival. This book holds over 600 pages of baby names and tips for naming your baby. Jennifer is the founder of the acclaimed parenting website, BabyNames.com, where she gets the data for her book. Each baby name features a popularity rating gathered from website follower feedback. The unique structure of the book and inclusion of extra fun facts, like the biggest personality traits associated with a name, offer readers more than just a list of names and meanings.
Care.com lists this as one of their Top 11 recommendations and it falls in the Top 50 best-selling baby name books from Barnes & Noble. If you want to see what names other parents love or hate, get your paperback copy for under $18.
Baby Names for Everyone
Baby naming books help new parents narrow down their list of potential monikers. Alleviate some of that naming pressure with help from experts.