Stork Cake
Create a modern, gender neutral design with this stork cake. Start with a white, frosted cake, embellished on the top and bottom edges with frosting swirls using a large, open star tip.
Create the stork prints around the bottom with brown frosting. Use a piping tip, and pipe stork feet prints haphazardly around the bottom.
You can make the cake look more like a nest by shaving some thin strips off the corner of a bar of semi-sweet chocolate. You can use the vegetable peeler to shave some chocolate, however, if it comes out to thick - try using a paring knife instead.
Baby Block Cake
Create a fun baby block cake as the centerpiece of your table design. The basic design is created from squares of fondant that have been colored, embossed, and then pieced together to cover a square cake. The borders are created from rolled fondant, and the baby figure and toy blocks are sculpted from gum paste.
Baby Rattle Shower Cake
This baby rattle cake has a fun, modern design with several circles and rings covering its surface. The cake is covered in fondant, and the decorative discs and rings are also cut from fondant using circular cookie cutters in graduated sizes. The rattle topper can be made using gum paste or modeling chocolate. The cake works equally well in pink or yellow.
Retro Baby Buggy Cake
This retro buggy and umbrella motif shouts old-school baby shower for those going the traditional route.
The cake base is covered in fondant, and all of the decorations are pieced together on the cake using colored fondant. You'll need circular cookie cutters to help create the buggy, wheels and umbrella. A small heart-shaped cutter is used for the hearts placed randomly to fill in the open spaces. The picket fence is created by cutting uniform strips of fondant and trimming one end of each picket to a point.
Baby Booties Cake for a Girl
This traditional cake is surprisingly easy to recreate. Cover two, single-layer cakes with fondant in the color of your choice. Stack them and wrap them with shiny, satin ribbon for the borders. Attach a ribbon bow on the front, and top with a baby booties cake topper, or get creative and top with something that goes with the theme of your shower.
Animal Prints Cake for a Boy
Here's another elegant design that will really draw your guests' attention, yet it's not too difficult to make.
To get this look, start by making one larger and one smaller cake. Cover the top in white fondant and the bottom in blue fondant. This blue design is a great simple baby shower cake option for a boy. You can also make this cake girly, by going with pink fondant, and then use corresponding colors for the animal prints.
The cake features two different jungle prints - leopard and zebra - done in different shades of blue and black fondant. Because the shapes are fairly abstract, they can be cut out of the fondant with a butterknife, and molded with the fingers into the desired shape. A pair of fondant baby shoes, tied with ribbons, tops the cake and adds a traditional element to an otherwise modern cake.
Gender Neutral Baby Carriage Cake
Have a little fun, while still giving the cake a traditional look, with this baby carriage cake. A single layer cake, done in yellow and decorated with fondant flowers and bees, lets the cake remain gender-neutral, while still adding a sweet, fun style.
Get Crafty for a Unique Design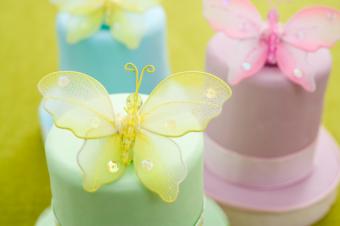 Head to the local craft store, and look for pretty fabric and wire butterflies, artificial flowers, and other small decorative items to give a baby shower cake a pretty, put-together look. These cakes are topped with butterflies for a beautiful, summery look. However, almost anything can be used as a cake topper so long as it's clean and non-toxic. Get crafting for a unique design!
Cute Blue Booties Cake for Boys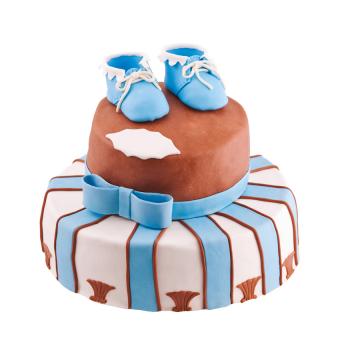 Make your baby booty cake a little more masculine by combining the color blue with rich, chocolate brown. The decorating of the lower layer of the cake gives a sophisticated style to the cake, while the blue bow and booties keep it from getting too grown up. The mom-to-be who is expecting a boy is sure to love this super-cute baby shower cake!
Pretty Pacifier Cake
This cake is fun as well as pretty, and it's a great design to use when you don't know the sex of the baby. Two pacifiers might also hint that twins are on the way!
You can create the pacifiers using gum paste or modeling chocolate and coloring them with pigment dust. You could easily use two real pacifiers as your toppers, and give them to the mom-to-be for the baby. The peach-colored flowers are created using a drop flower tip, a small leaf tip and silver dragées.
Easy Baby Quilt Cake
This cake is designed to look like a baby quilt. Squares are filled with various baby items and ABC's. It's a super simple cake design! Just map out lines for the blocks and use a shell tip filled with buttercream to define them. Add block letters using a round tip. You can purchase small baby ornaments at any cake decorating supply store.
Fun Crawling Baby Cake
This design is great for someone who's expecting a baby boy, but you could easily change the blue diaper to a different color if you prefer.
This cake was made using a 'Special Delivery, Crawling Baby' character pan from Wilton. The pan comes with decorating directions that basically call for a small round tip to pipe the outline of the design and a small star tip to fill it in.
Easy Baby Elephant Cake
This very cute design is a great example of an adorable cake that doesn't take a lot of skill to put together.
Two cake rounds are frosted in buttercream, and the side ridges are created by running a scoring tool around the outside of each layer. Stack the layers, and wrap ribbon around the bottom of each layer as a border. Insert cupcake picks at intervals in front of the top ribbon border. Pipe a simple shell border around the top of each layer, and add an ornament of your choosing on the top. What could be easier?
Little Boy Blue
This lovely light-blue cake is perfect for a baby boy's shower. The cake is covered in a pale, blue fondant and topped with a large pair of white booties tied with a blue ribbon. Smaller blue booties, made of fondant or gum paste, sit at the base of the white booties, and white fondant letters and small decorations finish the look of the top. For a final touch, there is a gingham ribbon around the base of the cake, giving the cake a three-dimensional element.
Pretty in Pink
For some showers, an over-the-top pink cake like this is just the thing for a mom-to-be who is expecting a girl. This three-tiered cake is decorated entirely in white, baby pink, and vivid pink fondant and is crowned with a bow made entirely of fondant. To help give the bow shape, you can insert clear, plastic rolls to hold up the curve of the bow. The polka dots are made of a stiff buttercream frosting added with a piping tip. With that said, you may want to leave this one to the professionals. However, know that it is guaranteed never to be forgotten by any shower guest.
Super-Cute Twin Cake
If you're expecting double, then consider doubling the level of your cake to match. This fun cake features not only two carriages on top, the two layers are decorated in coordinating, but not matching, icing to emphasize the fact that two new people are coming into the world.
Shower of Flowers
If you're expecting a spring baby, why not have a spring-themed cake? This basket-weave decorated cake edged with daisies is perfect for any shower and can be personalized with a congratulatory message, though you can use any flowers in the design.
Adorable Baby Cake
Another way to do a fun, gender-neutral cake is by making the cake in the shape of a baby. For this cake, you'll need to bake two round cakes in regular, nine-inch cake pans and then another cake in a slightly larger round cake pan. Use the larger round cake for the body, and one of the smaller cakes for the head. Trim the second smaller cake to make the baby's arms. Cover all three cakes in skin-colored fondant and add details like the diaper, eyes, hair and ears using the appropriate-colored fondant.
Baby Animal Cake
Make this cake the centerpiece of your jungle-themed baby shower. A green, gender-neutral cake is the base for this design, which features animals and animal heads made out of gum paste.
Swirls and Sugar Flowers
Another great idea for a spring shower is a cake decorated with lilies. These beautiful flowers make a stunning presentation on the cake. Elegant but not overwhelming, this cake would be great for a larger shower. For small showers, the cake could keep its lovely swirl and flourish decorations limited to a single tier.
Delightful Dots
Make a fun, modern statement with a cake that would be right at home inside a modern nursery. This fun layer cake is covered in chocolate fondant, then decorated with pink and yellow fondant dots. Curly fondant ribbons give the cake a casually playful look, and a ribbon around the cake's base brings it all together.
Teddy Bears
For a sweet, old-fashioned cake, consider lining the sides of the cake with teddy bears wearing kerchiefs blue or pink. A matching-colored pair of baby booties nestled amid some frosting roses on the top of the cake help to complete the theme.
Baby Booties and Bib Cake
Take any sheet cake and transform it into a baby shower cake with a little help from some fondant. This stiff icing can be used to sculpt anything, from a baby bottle to a beautiful blue bib. Arrange several fondant items onto an otherwise plain white cake to bring it to life.
Welcome Home Candy House Cake
Rather than focusing on mom or the baby, this cake focuses on the new addition to your household. The candy cake is reminiscent of gingerbread houses, but is made of cake layered with fondant for the roof and decorations. It makes a great centerpiece for the table at a baby shower focused on the household.
Pretty Baby Shower Fondant Cakes
Baby shower fondant cakes can be classy and elegant or fun and casual. Match the look of the cake to the mom-to-be's taste and personality, and the shower is sure to be a smash hit.
Unique Pinkalicious Stand Cake
The stand cake is covered with fondant and decorated with piped chocolate swirls. The cupcakes feature wafers that could sport either the baby's name or the mom's name. This is a great option for a larger shower (20 or more guests) that is a little more upscale in nature. Get creative and appease both chocolate and vanilla lovers by doing the cake in one flavor and the cupcakes in another.
Duckie Shower
A duck-themed shower is a simple and cute option for a mom-to-be who doesn't know (or want to reveal) the sex of her baby. In addition, cupcakes are a trendy cake option for baby showers, and are much easier to handle. You can purchase duckies from a party supply or cake supply store. To get that look with the frosting, use a large tip.
Ombre
Want something simply elegant? Try a double-decker ombre cake. To get this look, bake two layer cakes in four, nine-inch pans. Then ombre it up for a unique and modern look.
Choose the Perfect Shower Cake
With so many options, you'll definitely be able to find the perfect cake design for the baby shower you're hosting. Whether you have advanced cake decorating skills or if you're looking for a simple, easy design that's easy to do, whatever you choose is sure to be a hit!