25+ Baby Shower Card Sayings (From Simple to Sweet)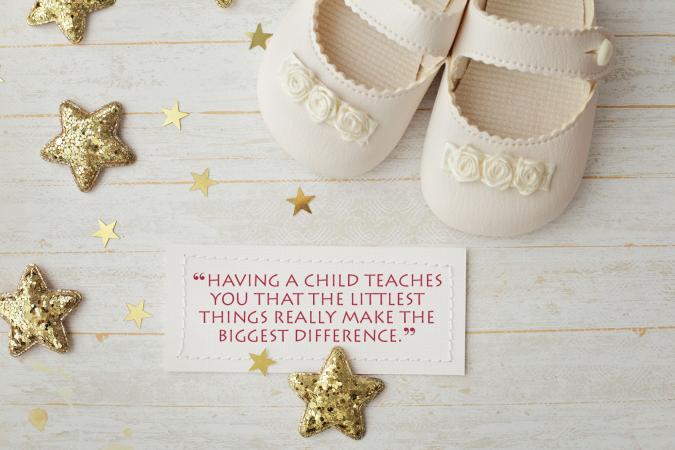 You can write baby shower sayings on cards or invitations to personalize any message. Writing baby shower sayings reinforces your sentiments, hopes, and dreams for the unborn baby.
Short Baby Shower Card Sayings
Your baby shower card messages don't need to be long and wordy. You can write short but sweet baby shower sayings on cards or invitations.
Congrats on your mini-me!
Little girls are always surrounded by fairy dust.
Little boys take breaks for hugs.
From now on, every day will be sunshine and lollipops.
The sparkle in your baby's eyes reflects the love in your heart.
Baby+You=Love forever.
Your baby is your heart.
When you hold your baby, you touch heaven.
Prepare to be wowed every day.
Baby Shower Card Sayings for Twins
A mother expecting twins has twice the love and worries. You can share in this excitement by writing a thoughtful saying on your baby shower gift card.
Twice blessed and twice loved.
She's Daddy's girl, and he's Momma's boy. (boy/girl twins)
Twins mean your heart grows twice as big.
Two is always better than one.
Your two babies struck the jackpot when they got you for their mom.
Twins mean you get to bake twice as many Christmas cookies.
Twins double the joy of motherhood.
Twins mean an instant 2 for 1 shopping mandate.
Twins girls mean equal opportunity to wrap Dad around their fingers.
Twins are born with their best friend.
Funny Baby Shower Sayings
Introduce a little humor with a funny baby shower saying. You can add a funny baby shower saying to the gift card to express your joy for the expectant mother.
A baby boy means your future forecast is a big grocery budget and two refrigerators.
The rest of your life will be one peek-a-boo after another.
Remember to keep the nursery at womb temperature.
Your baby proves his/her father isn't always playing video games.
No one will dare put your baby in a corner!
Soon you'll be saying, Ta-Da!
After doing 9 months inside, your baby will soon be set free!
You should start practice now in saying, "Because I said so!"
You can throw away your alarm clock; You'll soon have the cutest one in the world.
Enjoy today, because soon everyone will be offering you all kinds of advice on how to raise your baby.
Be prepared when people ask you while you're out strolling your newborn, when you're going to have another one.
Cute Baby Shower Sayings for Gift Cards
When you give a baby shower gift, sometimes a card doesn't convey the sentiment that you want. A few helpful sayings may be exactly what you want to write on your baby shower gift card.
Congrats! A girl baby is an instant shopping buddy for life!
Baby boys steal your heart and smile while doing it.
Your baby's sweet little face is forever in your heart and mind.
No matter how old your little girl gets, she'll always be your baby.
Only a little girl can be sweet and cute at same time she is fiery and strong.
A little girl is a joy forever, especially when she hugs your neck.
Your baby girl thrives on love, hugs, and kisses, so give her plenty of them!
Nothing prepares you for the unexpected joy of motherhood.
Baby Shower Sayings for Girl
You can add a baby shower saying for a girl to any shower gift card. Choose one that reflects your feelings and is appropriate for your relationship with the mother-to-be.
At last, you'll have someone to watch romantic movies with!
A baby girl is like a fairy, magical and full of wonder.
May your little girl glide through life on angel wings.
Congrats on your new best friend.
Prepare for pink fingernail polish, unicorns, tiaras, and tea parties!
Baby girls shower love and affection on everyone without even trying.
Baby Shower Sayings for Boy
Baby boys are forever poking things with sticks.
Psst… Don't worry… Baby boys really aren't born holding footballs.
Little boys start early filling their pockets with snails and frogs!
It's trains, planes, and truck time!
Boys love footballs, baseballs, soccer balls, and snowballs!
You can avoid a baby shower if you change the diaper quickly.
Baby Shower Verses for Invitations
Your baby shower invitation sets the tone for the entire shower. When you're designing your invitation, choose a poem or saying that really represents your party. Pick whimsical or funny verses for lighthearted gatherings and more serious sayings for those grown-up get-togethers.
Baby By the Numbers
Ten little fingers,
Ten tiny toes,
Two beautiful eyes,
One button nose.
Nine months of waiting
Until baby shows,
A lifetime of love,
That only grows.
Boy or Girl?
Dollies and tea sets and dress-up hats,
Toy trucks, bugs, and baseball bats,
Will baby be a boy or a girl so fair?
Either way, this is joy we want you to share.
Gathering of Women
Mothers and grandmothers and aunts and friends,
Sisters and nieces and love to no end -
Come shower this new mommy with wisdom lifelong,
And show her she's capable, caring, and strong.
Simple Baby Shower Sayings
Sometimes, you only need a few words to express how you really feel. Short sentiments are perfect for writing in cards or attaching as favor tags. If you'd like to keep it short and sweet, try one of these simple sayings to express warm wishes to the new parent(s):
Messier, louder, sweeter, softer, and more loveable than you could ever imagine.
When you hold a baby for the first time, your heart opens like the bud of a flower.
Having a child teaches you that the littlest things really make the biggest difference.
Being a mother makes you doubt the things you think you know and teaches you lessons you'd never even imagined.
Girls are more than sugar and spice, they're love and strength at its most precise.
Being a boy mom shows you the best of both worlds, how to be tough and tender like a boy and like a girl.
Warm wishes for your new family as that little ray of sunshine lights up your life.
Babies are like tiny dictators you can't help but follow blindly.
Always carry a diaper, cuz s#** happens!
Parenthood: the scariest place you'll ever live.
You may also want to choose wording from one of these newborn quotes or new baby congratulations messages.
Baby Shower Advice Messages for Mom
One popular baby shower tradition is to have guests write advice for the mommy-to-be. A special verse or saying can help inspire them to share their wisdom and experience about parenting. To use these sayings, print the words at the top of plain pieces of cardstock. Then leave a pen near the cards so guests can offer important insights about being a mom.
Wisdom and Experience
You've been there time and time again:
Sleepless nights, potty training, counting to ten.
If you've got some motherly wisdom to spare,
This mom-to-be would love if you'd share.
Secrets of Being a Mom
Colic and diaper rash and winter croup -
Tissues and ointment and chicken soup.
Skinned knees, disappointments, and lots of 'whys'
Band-aids, encouragement, and "give me five"
Know a few of the secrets to being a mom?
Help this new mommy be happy and calm.
Verse and Sayings for Thank You Cards
Not only is it proper baby shower etiquette to send out thank you notes for gifts, but it's also a great way for the mom-to-be to show the guests how special they made her feel. If you're hosting a shower, consider printing up some thank you notes with cute baby shower verses inside. The mom-to-be will appreciate your help.
Simple Thanks
Thank you for your gift, more than I can say,
And thank you for sharing my special day.
All That You Do
Ribbons and bows and baby gear,
Funny games, wisdom, and lots of good cheer -
I had a wonderful time, and I hope you did too.
Thank you so much for all that you do.
Express Your Excitement
With all the great baby shower sayings out there, it can be difficult to settle on one that perfectly sums up your feelings. Remember, the mom-to-be will love your shower, no matter how you word the invitations, advice cards, thank-you notes, or other items. Ultimately, you only need to find a poem or saying that expresses the love and excitement you feel about this new little bundle.