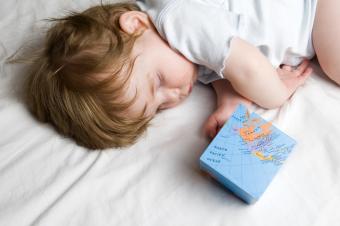 Portable cribs are perfect if you travel a lot, need to let your baby spend the night at grandma's house, or feel that your baby's room is too far away from wherever you'll be spending time while she naps. Some are intended for newborns only while others can grow with your child, from bassinet to crib.
Travel Co-Sleeper
Travel co-sleepers can lie on the bed with you or stay on the floor. They're best for infants who can't yet push up or roll over. They are less ideal as the child gets older since even a crawler could make his way out of it. In most cases, they're recommended for babies up to six months of age. If you can't keep it on the bed because there's not enough room, personal preference may lead you to something taller, like a travel bassinet, so the baby is still around eye-level while you're in bed. Most of these fold up and feature a carrying strap. Many of them also have side pockets for extra storage. These are wonderful for keeping your baby close and bonding, but it may not be the most comfortable option if you're hoping to get two parents and the co-sleeper in a bed smaller than a king size.
LulyBoo Baby Lounge
The LulyBoo Baby Lounge To-Go Travel Bed is around $50.00 and converts into an easy-to-carry, lightweight backpack. It has a three-position canopy and storage pockets, plus a waterproof bottom that can protect your sheets or carpet in the case of leaks. Thanks to the shade and the waterproof bottom, this could be used outdoors for the family that likes to picnic at the park or hike. It's only for babies up to 15 lbs. or until they can push up or roll over, so the downside of this one is how little time you may actually be able to use it.
Baby Delight Snuggle Nest
The Baby Delight Snuggle Nest Surround Infant Sleeper costs about $60.00. It's designed so that you can co-sleep with a newborn or infant without worrying about rolling over on them or the bedding suffocating them when the sleeper is positioned near the headboard. There are two rigid, vented walls and flexible side panels, plus a mattress and 1.5" incline wedge. This option even comes with a Sound & Light unit, which can be especially soothing for babies. The light allows you to check on them without turning on an overhead light or lamp. Simply fold the sleeper up and carry it by the handles when it's time to go. The extra features like the wedge and special wall designs may help you sleep more soundly, too, knowing your infant is safe, comfortable, and secure.
SwaddleMe By Your Side Sleeper
The original SwaddleMe By Your Side Sleeper costs less than $40.00. It's less compact than some other travel bed options even though it does fold down to a smaller size. However, the price difference may be worth it. As with most of the co-sleeper options, this one is designed for babies up to about three months, or until they start to push up and roll over. The metal frame and mesh sides combine with a mattress pad and fitted sheet to keep the baby safe and comfortable when they're in the same bed as you. If you want extras, there's the Deluxe option for around $60.00 that includes a sound, light, and vibration unit to help get the baby to sleep.
Portable Cribs, Pods, and Bassinets
These beds are great for taking along to the park, the beach, a hotel room, grandparents' house, or anywhere you think you'll need to put your baby down to sleep. They fold into a nice, carryall size but pop open to provide plenty of sleeping room for your little one. They typically feature mesh sides so babies can see out and parents can easily supervise them. This style can grow with your baby. Some are meant to be used outdoors or indoors, some have bassinets included that can be taken off when the baby reaches about three months old, and some even have a base that will allow you to rock your child to sleep.
Guava Family Lotus Bassinet
The Guava Family Lotus Bassinet Kit and Crib Bundle is a little on the pricier side at around $300.00. However, if your baby is under 18 lbs. and has a bit of time before she will get to that mark, this may be a wonderful solution for your family because it can grow with your child. The bassinet works until the baby is 18 lbs. and then the crib portion comes in and works until the child is three years old. You can choose between rockers during the bassinet stage, opting for a rocking base or a stationary one. Take it from room to room with you in your home, take it out on the deck, or use it when you travel. The side zips open so it's easier for kids (once they're crawling) to get in and out, and it could be easier on your back if lifting a baby or toddler in and out of a crib is tough. When it's time to go, just tuck it all into a carrying case and wear it on your back. If your baby is older, or won't be below 18 lbs. for long, you may just want to go with the crib version to save a little money (it's just under $200.00).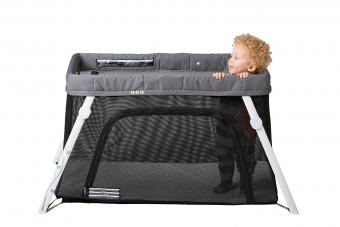 KidCo PeaPod Travel Bed
The KidCo PeaPod Infant Travel Bed costs around $60.00 and makes an excellent indoor/outdoor option. The UV protection, protection from insects, and anchor straps alone make it worth considering if you like to spend time outside with your little one and want a safe place for sleeping and playing, but the added benefits of its lightweight (2.5 lbs.) and ability to become compact (it can fit in a suitcase) make it even more appealing. There's also a large zipper on the side so you can get to your baby easily. Worried it won't be so comfortable if it's lying on the ground? There's a sleeping pad that snaps to the floor. Though it's set up well for outdoor adventures, the PeaPod bed is also a good choice if you want to spend time at a friend's house without skipping nap time or stay overnight in a hotel or a family member's home. This particular product is not recommended for children under one year.
BabyBjorn Travel Crib
The BabyBjorn Travel Crib Light is one of the most expensive options (between $200.00 and $300.00) and also one of the largest even when folded up and ready for travel. It does come in your choice of six different colors and it's good for children up to age three, so if you choose this one early in your baby's life and/or plan to have more children, it may be worth the investment. Even though it's rather large when folded (think of a thin suitcase), it does only weigh about 13 lbs. It's designed to be easy to set up and disassemble and the mesh sides make it easy for babies to breathe and parents to keep an eye on them. The soft mattress could make it easier for babies and toddlers to sleep, but the lack of a side opening like other models have could make it more difficult for parents to get their babies in and out.
Making the Right Decision
When you're considering a travel bed, you have several options to consider. Narrow down your choices by thinking of how much you want to pay versus how much use you'll get out of it. Do you want to be able to co-sleep with your baby or could a bassinet beside the bed be a good option? Another important thing to consider is how much time you want to spend outside with a travel bed as some models are better suited for the outdoors than others.