Printable Baby Trivia Games
Looking for something fun to do at your next baby shower or mom's group? Test your knowledge of all things baby with these fun baby trivia questions. Individually or in a group setting, these printable questions can be used for many events and activities.
Printable Baby Questions and Answers
These questions, which cover topics from growth and development to baby-related world records, will stimulate your thinking. To use the printable, click the thumbnail image below. Once it opens in a new window, click the printer icon to print. You can also click the download icon to save the trivia for later. For help downloading, take a look at the guide for Adobe printables. The printable also contains the answer sheet.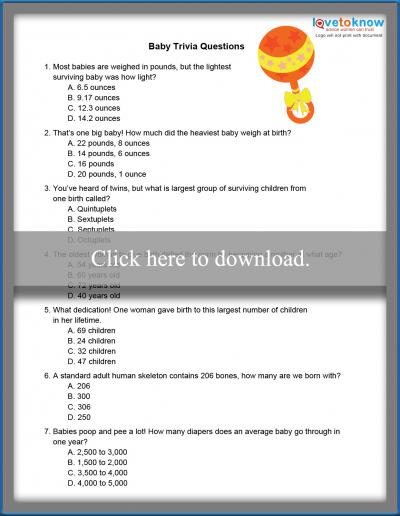 How to Play: Baby Trivia Game Ideas
You can use these trivia questions in a variety of group settings, such as baby showers, mom groups or similar gatherings. To play, hand out printed versions and allow time for people to write down their answers. The person with the most correct answers at the end of the activity wins a prize. Other fun ways to use the baby trivia printable include:
Create a Jeopardy-inspired game all about babies or using some baby trivia as one category.
Require participants to answer a question correctly before moving on to the next step of an obstacle course or entering the event.
Trivia questions make great conversation starters. Place questions on tables and encourage guests to discuss.
Make it an elimination competition where players go head-to-head, and the person choosing the correct answer moves forward.
Do You Have a High Baby IQ?
Even the most seasoned parents may be surprised to learn fun facts like how much the heaviest baby weighed at birth. Whether you're looking for fun questions to ask at a baby shower or if you need baby trivia questions for another purpose, these will work perfectly! If you need even more trivia and other ideas for baby themed games, this collection of free printable baby shower games will come in handy. Some of the options are funny, while others are a bit weird - there's something for everyone! Have fun and learn some interesting information by using baby trivia questions personally or at an event.