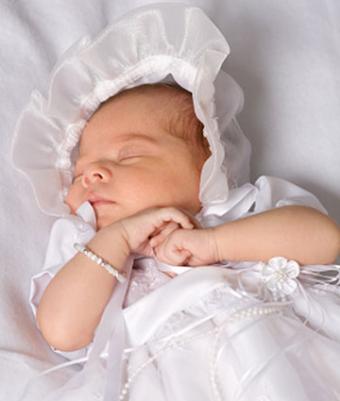 Whether you are celebrating the baptism of an older child, an adult, or an infant christening, commemorating the day with a special gift is a common tradition. These gifts often serve as a reminder of a commitment to Christ as well as your special bond with the person being baptized.
Infant Jewelry
Jewelry continues to be a popular baptism gift choice, and many parents prefer this option for their baby girls.
Bracelets
Baptismal bracelets are very popular, and they make wonderful gifts for little girls. You can spend a little or a lot depending on the type of jewels the bracelet has. Any of the following choices make well-received baptism gifts:
Pearls are beautiful and generally hold up well to the demands of a child wearing them. Check out the freshwater pearl bracelet at Little Girl's Pearls, which can be ordered in a range of sizes, from newborn to teen. Prices vary, but start around $40.
If you prefer a charm bracelet, Tiny Blessings allows you to customize your choice. As the baby grows, links (to make the bracelet larger) and charms can be added to commemorate every occasion in her life, including her confirmation and marriage. The bracelets are made of sterling silver which is an attractive and durable choice. Prices start around $50 and include one, free engravable charm and the engraving.
Either sterling silver or gold make a beautiful bracelet. For a more personalized feature, have the date of the baby's christening or birth engraved on the inside of the band. Kay Jewelers offers several bangle bracelets in infant sizes, starting at around $50.
Necklaces
Always a popular choice, lockets can be ordered in silver or gold, and the child's name and birth date or baptismal date can be engraved inside or on the back. You can also include a small photo of the baby on her baptism day to make the gift more special. The Sterling Silver Baby Heart Locket from The Christening Corner is a beautiful choice for a little more than $40.
She's the love of her parents' lives, so choosing a heart necklace to symbolize that idea is an excellent choice for a baptismal gift. Check out the The Blessed Heart Pendant from Tiny Blessings which is white gold filled with cubic zirconias and costs around $180.
If you prefer to give pearls, the Precious Pearls necklace from Little Girl Pearls is a classic and elegant choice. Pink or white freshwater pearls make a lovely heirloom that will be treasured for generations to come. She can wear them when she's confirmed and on her wedding day by adding links between the pearls. Prices start from $100 and go up depending on the size of the necklace.
Pins
While the baby might not wear a baptismal pin until she is older, pins make wonderful keepsakes of this special day that she's sure to treasure when she gets older. Masculine options are also available so this piece of jewelry also makes a meaningful gift for a baby boy.
Baptismal pins often feature saints, signifying protection and love of the baby throughout her life. These are perfect for Catholic christenings. True Faith Jewelry offers a sterling silver, guardian angel on a silver bar that can be engraved or left plain. Costing just under $30, it's an affordable option for either a boy or a girl.
Other pins are given in the form of crosses with a small plaque at the top which can be engraved with the baby's name and baptism date. Check out the baby pin with cross charm from the Catholic Faith Store, which is just under $50.
Earrings
Many parents have their little girl's ears pierced when she's an infant, which makes earrings a great option for a baptism gift.
Hearts are an ideal image for a baptism because they signify your love for the baby, the parents' love for her and the love of the Lord on such a momentous day. Silver or gold hearts are simple and elegant and will grow with a baby girl. The Angelic Heart Silhouette earrings from Tiny Blessings are perfect for tiny ears and feature three cubic zirconias. These earrings are approximately $80.
A cross is a powerful symbol in Christianity, so a tiny pair of cross earrings is heartfelt way to commemorate a little girl's christening. Solid metal is a classic choice, but those encrusted with jewels also make an ideal pick if they fit in your budget. James Avery Jewelry offers an elegant and simple pair of silver crosses that can be worn even as a little girl gets older, and cost just under $50.
Gender Neutral Gifts for Babies
Struggling to find a baptism gift that isn't totally feminine? You're in luck because there are many gender neutral options out there. Some can even be modified for either a boy or a girl, making it simple to choose a gift for the baby in your life.
Engraved Gifts
Engraving a gift is a personal and heartfelt option that gives parents a lovely memento of the day.
Picture frames are both beautiful and functional, making them a much-appreciated option for a gift. The frame can hold a photo of the special day or the baptismal certificate. Many frames can be engraved with the date of the christening and the baby's name as well. Check out the personalized silver baptism frame from The Catholic Company. The frame says, 'In Celebration of Your Baptism' on the top and includes free personalization, for just under $55.
A personalized cross can be made out of silver, pewter, gold, or even wood, and is typically engraved with the baby's name and the date of the christening. What a wonderful way to commemorate the day and give a baby the opportunity to talk about his baptism as he gets older. The Bless the Child Ceramic Cross from Personal Creations is an attractive option made from porcelain and featuring a poem. It sells for just under $25.
Keepsake Gifts
A baptism brings with it many mementos, including the items parents receive from the church, cards from friends and family and photos of the day. A keepsake gift is perfect for parents who want to display or collect these items in one place.
A shadow box is perfect for preserving all of those trinkets from the big day, including the invitation, favor, baptism cloth, and precious pictures, too. Things Remembered has a shadow box specifically for baptisms which features a Bible verse, slot for a photo and an engravable plaque for inscribing the date and baby's name. The box has a brushed-gold frame and retails for about $45.
Mementos of that perfect day can be safely stored in a beautiful box for years to come. This is a great way to go through the day with a child as he gets older, so the importance of the day is something he recognizes as he grows. It's also perfect for sharing the day with friends and relatives who couldn't attend the baptism. The Portara Gallery offers a range of options, including a unisex, satin-covered wooden box that is large enough to store not only the little mementos, but also the baptismal outfit. The box costs under $215.
Unique Baptism Gifts for Young Children
Try a unique gift if you are the godparent or otherwise especially close to the child getting baptized.
Framed Print
While plaques and hanging crosses are fairly common christening gifts, a framed print is a different twist on that idea that lets you give a gift that no one else will. Consider a nature scene with a relevant Bible verse to commemorate the day.
Indigo Night features an affordable print of the night stars in the very city and on the very night where the baptism takes place. A Bible verse can be added to make the print special. Choose a verse that was read during the christening or one that commemorates your relationship to the baby. The customized print is under $50.
At Concordia Publishing House, you can purchase an artist's rendering of the baptism of Jesus, which is a heartfelt and touching way to bring the event into perspective for a baby as she grows and wonders about the tradition and customs behind being christened. This print is just ovr $300.
Children's Bibles
When babies are baptized, they cannot read, so many people opt for other types of gifts. Choosing a children's Bible is a fun and easy way to give parents an age-appropriate version of popular Bible stories they can share with their little one. Many mainstream bookstores sell such items, but Christian bookstores are a great place to find a wider selection of options. Of course, the following sites are perfect too, if you can't find what you're looking for.
Christian Book Distributors is the site to go to if you want to browse through many options to help you find the exact item you want. Choose from a variety of translations and age groups. You'll find options like The Toddler's Bible and The God Loves Me Bible. Bibles start at around $8.
At Thomas Nelson, browse Bibles by age group or translation, and choose from options that include Precious Moments and Baby's First Bible. Bibles also start at around $8.
A Handkerchief
It might sound strange to give a baby a hanky, but there's a unique and very special meaning behind the gift. On the baptism day, the mother can use the hanky to wipe her tears as she commits her little one to the Kingdom of God. Then the hanky can be stored and taken out again and carried for other important events like a first communion, or a wedding. Eventually the hanky can be passed on to his children when they are baptized, confirmed and married.
Bumblebee Linens features both male and female hankies in several designs and patterns. You can also personalize the hanky by ordering embroidery and the color options make it easy to find just what you're looking for less than $16.
Inspired Stitches on Etsy makes it easy to find a hanky that commemorates the day. With simple color and design choices, you can order something special that will be treasured for years to come. The handkerchief comes personalized with the baby's name, date of birth and other options, along with a design for around $20.
Gifts for Older Children and Adults
Some Christian denominations don't baptize until a person is a child or adult and able to profess their faith. If the person being baptized isn't a baby, your choice of gifts vary somewhat. Take a look at the following ideas, and use them for inspiration as you choose a meaningful gift.
Jewelry
Jewelry isn't just a baptism gift for infants. Older children and adults enjoy wearing it as well, and there are many contemporary and classic options that commemorate the occasion while also displaying the person's personality.
The Forgiven Sinner dog tags from Not of This World are a unique and modern choice for teen boys or young male adults. With a Bible verse on one side, and a religious phrase on the other, the dog tags are sure to remind him of his baptism each time he wears them. The necklace is also an affordable option at just under $10.
The Water Is Life, drop-shaped necklace from Dierdre & Company will make an interesting reminder of Jesus as the living water to help commemorate the baptism. The necklace is gender-neutral, comes in sterling or gold, and sells for just under $50.
Mementos
Simple mementos are perfect for older people being baptized. They're ideal for displaying as well as keeping in a memory box. There are several keepsakes to choose from, so you're sure to find something heartfelt and appropriate.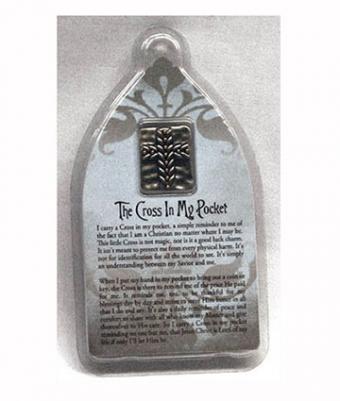 Try a hanging ornament, which allows someone to commemorate their special day each time they set up their Christmas tree. The personalized cross ornament from Christian Book Distributors
features a beautiful image of a butterfly and can be engraved with the person's name for just under $10.
The Cross in My Pocket keepsake from the Episcopal Bookstore is a small, pewter, pocket piece with a cross and Bible verse that a child or adult can carry with them as a daily reminder that they now belong to God's kingdom. The small piece costs less than $5.
Commemorating a Special Day
It can be difficult to select just the right gift. Whether your gift is for a baby or an older child or adult, you'll want to make sure that your gift will be a special reminder of the day and your relationship with the child. With that in mind, choose something that is meaningful to your relationship to the family as well as something that will be meaningful as the child looks back on the day. However, most importantly it's your presence that will mean the most to the family.