The baby that you've been impatiently waiting for has finally arrived. Share your joy with the world with baby announcement captions. These are great for adding to a picture of your newborn or a cute family photo.
Keep reading »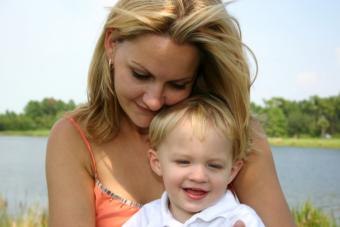 The first few weeks of your baby's life will fly by! You'll look back on those days and wonder where the time went. Before long, you'll be celebrating your little one's first birthday. As you enjoy your time with your new baby, you'll probably have lots of questions. LoveToKnowBaby is here for you! You'll find lots of great ideas and advice on how to take care of your precious infant, so check out all of our great article links!
Newborn Baby Care
Taking care of your baby is a full-time, twenty-four hour a day job. Sometimes it can be overwhelming, but please know that things will get easier as you become more comfortable taking care of your baby and as you understand more about your baby's needs. For a little guidance, however, visit the article on newborn baby care.
Infant Sleep Habits
One of the most common questions that you'll be asked as a new parent will pertain to your baby's sleep habits. You may answer those questions in a sleep-deprived state. Don't worry. Most people understand that you probably aren't getting a whole lot of rest right now. For more information on what to expect from your new baby, read the article on newborn baby sleep habits.
Baby Pictures
Every moment with your baby is precious, and she will grow so quickly. You'll want to capture as many memories as possible, but taking pictures of your infant can sometimes be tricky. For some great advice on picture taking, check out Newborn Baby Pictures.
Infant Clothing and Gifts
Baby clothes are adorable, aren't they? They are so tiny and delicate, and they are certainly hard to resist. If you are planning for a new baby or simply searching for that perfect baby gift, you'll definitely want to read the article on newborn baby clothes for tips on what to look for and what essentials need to go in baby's layette. Infants receive lots of presents, but we can help you find presents that are useful and unique.
Bringing Baby Home
The birth of a baby is an exciting time for everyone involved. Once your adrenaline has died down somewhat, and it's time for you to leave the hospital, what can you expect of those first few days? Bringing Baby Home is a great article filled with all sorts of tips and advice to make those first few days of your baby's life easier for you both.
Premature Babies
Nobody wants his or her baby to be born prematurely. Often, through no fault of the mom, however, babies are born several weeks and even months early. Many times complications arise because of the early birth. This can be an extremely stressful time for baby and her parents. If your doctor expects your baby to arrive early, or if your baby was a preemie, you'll want to check out the article on premature babies.