Types of Infant Car Seat Covers
LoveToKnow is a participant in affiliate partnerships, and may receive a share of sales from links on this page. These partnerships do not influence our editorial content.
Styles of Infant Car Seat Covers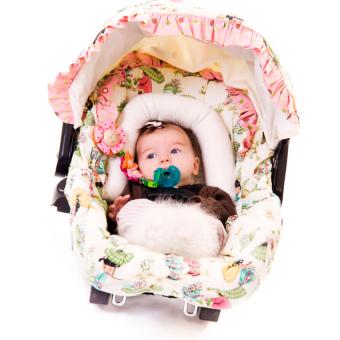 Whether you're hoping to add some fun color to your infant seat, or you need a cover to protect baby from the environment, there are lots of great options out there. Infant car seat covers come in many different types and colors, and your needs will dictate which type of product is right for you.
Click on the "Buy now" button on any slide for purchasing information.
Infant Car Seat Slipcovers
More Details"
You can change the look of your infant seat by using a slipcover. This reversible option by Itzy Ritzy is made of minky fabric and printed cotton and includes a canopy cover, pacifier clip, strap pads, and many other great features. It fits most infant seats. This cover retails for about $92.
Comfy Covers to Support Baby
More Details"
Very young infants need extra head and neck support while in the car seat, and a washable layer between your baby and the seat is a time-saver when it comes to cleaning up spit-up and other messes. This cover, by Snhenoda, performs both jobs at once. It comes in a sweet pink color, as well as gray and brown, and retails for about $27.
Canopy Covers for Infant Seats
More Details"
A canopy-style car seat cover can turn your infant seat into a dark, cozy spot for napping. These simple covers, such as this one by Kwanshop, attach with straps to the infant seat carrying bar. The fabric then provides a barrier between your napping baby and the noisy, stimulating outside world. This cover comes in ten different reversible colors and retails for about $16.
Covers to Keep Baby Cozy
More Details"
In the winter months, it can be inconvenient to bundle your little one up in lots of layers, and some moms worry that this extra fabric can interfere with the car seat straps. A cozy cover, such as this option by JJ Cole, keeps your baby warm by encompassing the entire infant seat. It works with most brands, has a handy zip-off blanket, and is machine washable. This cover comes in four colors and retails for about $51.
Covers to Protect Baby from Rain
More Details"
Sometimes, you just can't avoid carrying your infant car seat in the rain, sleet, or snow. A weather-proof cover is a great solution. This option by Jolly Jumper is made of clear, phthalate-free plastic and has plenty of air holes for your little one's comfort and safety. It fits most seats and retails for about $19.
Covers to Protect Baby from Bugs
More Details"
Whether you're using your car seat as part of a travel system, driving with the windows down, or simply spending time outdoors with your little one, insects can be a problem. This handy bright green cover by Cozy Baby solves the bug problem by fitting over the infant seat and providing a breathable mesh panel. It also shades baby from the sun. This cover fits most infant seats and retails for $25.
Sun-Reflecting Covers
More Details"
When your car seat sits in a sunny vehicle during the summer, the straps and fabric can become dangerously hot. This handy cover by Mommy's Helper is a great solution. It's made of sun-reflective material and slips over the entire seat. It fits most brands and sizes and retails for under $10.
Covers to Protect Vehicle Upholstery
More Details"
If you've ever looked under your baby's car seat, you've probably been horrified by the pulverized snacks and other nasty debris. A vehicle seat cover is a good way to protect your investment. This option by Summer Infant slips under your baby's car seat and acts as a barrier for spilled milk and snacks. It retails for about $12.
Covers You Make Yourself
If you're hoping for a truly custom look, you can make your own baby car seat cover with a few tools and supplies and a free afternoon. It's a fun project that lets you give your baby's car seat the style and color you really want.
No matter what type of infant car seat cover you need, there's a product out there that makes a perfect solution. Protecting your baby from the elements or giving your car seat a brand new look has never been easier.