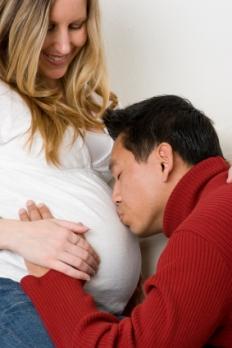 Choosing your baby's name is one of the more important decisions you will make in the early days of parenting. While middle names tend not to be seen as significant as first names, you still want to make sure that you choose a name for your baby that is worthy.
Ideas for Your Baby's Middle Name
To use the generator below, simply enter your baby's first name and last name. Don't forget to check off the gender. The generator will then search the database, which holds all the names from the Social Security Administration database from 1890 to 2010. There are 98,000 names for babies, giving you plenty of options for picking the perfect middle name. Results will appear in the rectangular box.
LoveToKnow Baby Middle Name Generator
The Importance of a Middle Name
How important a middle name is depends on how it will be used.
A middle name holds some weight simply because it is used for identification. Some people choose to call their children by their middle names. Others choose middle names based on that name's meaning. Some parents call their children by both the first and the middle name, such as Sarah Beth or John Thomas.
A middle name is often used to satisfy the need for incorporating a family name that has been passed down from one generation to another. No matter what the significance of a middle name might be, however, it can still be difficult to find that perfect name for your baby.
Name Searching Tips
As you search for the perfect middle name for your baby, keep the following in mind:
You may love the name, but hate the spelling. If so, consider changing it to suit your needs.
You don' t have to limit your options to what is listed on the website. Name generators are there to help you with your choices. You may find another name somewhere else that you love.
Don't believe everything you read. Just because a name lists a particular meaning or even origin on a site doesn't necessarily mean it's true. Look for that name's meaning on several sources to verify the information.
Don't forget to look at the initials of your baby's name to avoid embarrassing acronyms.
Finally, choose a name that your little darling will be proud to call his own. He or she will have that name for the rest of his or her life!