15 Best Organic Baby Products, Preferred by Parents
Parents who have their baby's health at the forefront of their brains often turn to organic baby products as opposed to other popular items on the market. In their opinion, organic goods are a touch above the rest. In today's world, there are organic options for just about everything from food to toys to clothing. In parents' opinions, these fifteen organic baby products are the best of the best.
The Need for Organic Baby Products
Baby skin is some sensitive stuff and because of infants' thinner skin and their higher ratio of skin surface area to body volume, they have the potential to absorb chemicals more readily. This creates a need for items that are essentially pesticide and chemical-free. The rules and restrictions for organic products can be pretty strict. Organic cotton, often seen in infant clothing, blankets, and towels, must be 95% free of pesticides and chemicals, per The National Organic Program. With much concern over little ones and the potential for absorbing dangerous chemicals, organic items are not going anywhere soon. Here are some parents' favorite go-to items.
Earth Mama Organic Diaper Balm
At one point or another, every baby will encounter a diaper rash, and mom will want to get rid of it fast. There are lots of great diaper rash creams on the market, and many of them will do the trick, but many of them also contain ingredients that most people can not even pronounce. Earth Mama Organic Diaper Balm is effective and is also made up of only organic ingredients. Its 4.8 out of 5-star rating on Amazon further proves its popularity among parents.
Bambo Nature Diapers
When choosing a chemically free diaper, parents will want to look for ones that are chlorine-free and made without other hard additives. This brand skips the chemicals and common allergens and is eco-friendly to boot. With a unique three-layer design, babies will stay dry as well as safe.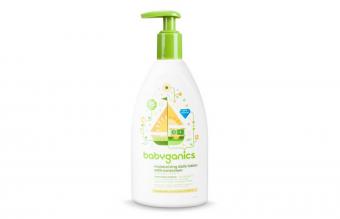 My Little North Star Shampoo and Body Wash
Made in the United States with only organic ingredients, My Little North Star shampoo, and body wash will leave baby hair and skin soft and clean. The ingredients are gentle and formulated to not irritate or dry out infant skin, and the products work great for little ones who suffer from bothersome eczema.
Lamaze Baby Clothing
This clothing line is full of rompers, onesies, dresses, and sleepers. All of them are adorable and all of them are affordable. As if this wasn't good enough news for parents, all outfits included in the popular brand are 100% organic.
Dr. Brown's Wide-Neck Glass Baby Bottle
Health-conscious parents love Dr. Brown's Wide-Neck Glass Baby Bottles. These bottles are made from non-toxic, recyclable borosilicate glass and are plastic-free. Aside from being safe, they are extremely functional, geared towards assisting babies with esky nuisances like spit-up and colic.
Things to Keep in Mind
In choosing an organic product for your baby, there are a few key things to keep in mind. Try to look for products that:
Only have ingredients that you can pronounce
Do not perform any animal testing
Are EWG Verified, Made Safe Certified, or USDA Organic
Fragrance-Free
Keeping your baby safe from harmful chemicals is crucial and these days, with so many amazing products available to consumers, totally possible.