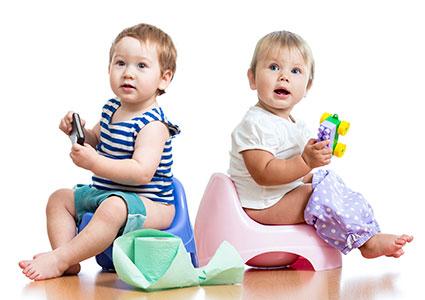 Choosing a potty chair might be a helpful tool as you begin potty training. However, there are many different types of potty chairs, so how do you know which one is the right one for your toddler? One of the best ways to ensure that you're getting the right one is to research your options, and find out what's available. That way, you can weigh the pros and cons of each before purchasing a potty.
Types of Potty Chairs
Whether you opt for something easy and no-fuss like a stand alone potty, or something that does double duty, know that using a smaller potty seat might make training your toddler just a bit easier. Many kids are a little intimidated by the whole potty training process in the beginning. Parents often find that using a smaller potty chair takes away some of the fear and anxiety that some kids have when learning how to use the toilet.
Stand Alone Potties
This type of potty is a simple unit with minimal parts. The potty may or may not have a separate bowl for waste, which can be a drawback for some parents. However, it is small, lightweight and easy to handle, and some people appreciate not having a compliacted potty chair. These types of potties are made from plastic, which makes them easy to clean. Generally, this is the cheapest potty chair option.
The Potty Scotty Musical Potty Chair is designed to play music when a sensor detects moisture. The potty is comfortable for kids and sits low to the ground to encourage proper use of a big toilet when it's time to transition. This potty chair costs about $20.
The Fisher Price Froggy Potty has a removable reservoir for easy cleaning and a no-skid bottom, so it doesn't move around as your child sits on it. Featuring a fun frog face and shape, this potty is sure to entice any toddler into successful potty training. Expect to spend about $13.
Choose the Baby Bjorn Potty Chair if you want a product that has a contemporary feel combined with appropriate function. It comes in several colors, has a removable bowl and features a comfortable design for little bottoms. This potty chair costs around $25.
Wooden Potties
Does your toddler fancy himself a prince or princess? If so, an appropriate wooden potty that looks like a throne might be just the ticket to getting your child to sit down and try potty training. However, wood is not as easy to care for as the traditional plastic potties. If moisture sits too long, it can warp the wood, and you may have to purchase special cleaning products for wiping the surfaces of the potty. The paint is also likely to get scratched and fade after lots of uses. However, the wooden options are fun and give your child an exciting item he can look forward to using anytime he feels the urge.
The Froggie Prince Wooden Potty Chair has a crown-shaped back, royal painted images and can be personalized with your toddler's name. The potty chair also has a lifting lid, a rack for books and a roll for toilet paper. This product will set you back about $70.
If you want something that's regal for your child, but a bit less over the top, the Natural Wooden Potty Chair by Potty Training Concepts might be the answer you're looking for. It features a plain wood color, but is convenient and comfortable with arms for your child to rest her body on and a removable bowl to make clean up a snap. This potty chair costs about $60.
The Levels of Discovery Her Majesty's Throne Girl's Potty Training chair combines good looks with function. Not only will it appeal to your little princess with pretty pinks and purples, but it's also easy to put together and keep clean. You can even slide a photo of your child into the back to personalize the chair. This product costs around $90.
All-in-One Potties
If you're a parent who wants your potty chair to do double duty, there are plenty of options out there. These potties transform in several ways, from chair to big toilet insert to stool, making them the choice if you need something that will grow with your little one. You can use the chair for pottying, then flip the lid and you have a step stool so your child can wash his hands. As a stool, the product is also a great place for your toddler to rest her feet as she learns to sit on the big toilet. That'll save you the tantrum that's likely if she falls in the big toilet. These slightly technical options typically require assembly and the lifting lid does pose the risk of a pinched finger, so use caution. These choices will make your potty training life much simpler.
The Potty Bench by Boon has a unique rectangular shape with storage on both sides. It goes from a traditional potty seat to a stool by simply putting the lid down. Expect to spend about $50 on this potty chair.
If your child loves trains, the Thomas the Train Potty Chair is perfect for you. This potty starts out as a traditional model, but can transition to an insert for the big toilet and becomes a step stool by flipping down the lid. Expect to spend around $30 on this product.
The Munchkin Arm and Hammer 3-in-1 potty has an odor eliminating system and neutral colors. Use is it as a regular potty, a trainer seat or as a stool to make getting on and off the big toilet easier and safer. This potty chair costs about $38.
Choosing the Right Potty
A lot goes into choosing the best potty chair for your toddler. Talk to friends and family about what products worked for their toddlers. Also, take your toddler with you when you choose a potty because having a hand in the selection process can help increase the chances that she'll use it. In no time, potty training will be behind you, and you'll be on to the first day of school and beyond.