9 Simple and Easy Baby Shower Cupcake Ideas
Tiny Works of Art
Baby shower cupcake cakes are a fun variation on the typical shower cake. Cupcakes can be made fairly easily at home and decorated to fit a wide variety of party themes. Cupcakes can be simple and light-hearted, or tiny and sophisticated works of art. Try these little bits of deliciousness at a baby shower, and prepare for compliments!
Cheerful Cherries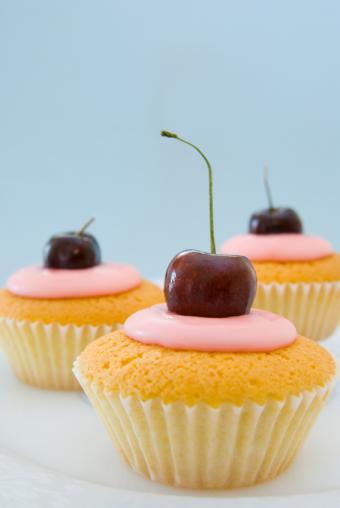 These minimalist cupcakes can work for casual or elegant showers, and are so easy to prepare. Find a tasty cupcake recipe, and bake the cupcakes. Add a squeeze of frosting from a pastry bag, then pop a fresh cherry on top to finish it off.
A Splash of Color
Frosting for cupcakes can be tinted to any shade, and star-shaped chocolate sprinkles add a modern touch to this generously frosted cake.
A Touch of Class
Go sophisticated with a cake topped with whipped cream or crème fraiche, then add a chocolate leaf or any chocolate candy shape. This classic cupcake is sure to be a hit at any sophisitcated baby shower. For a bit of fun, use strawberry whipped cream or tinted whipped frosting.
Puffy or Flat
Using different types and amounts of frosting can give cupcakes a very different look. Mix and match puffy and flat frosting for an interesting texture variation, and use colored sugar sprinkles in different shades for variety. Use a pastry bag to pipe on the puffy frosting, and use thinner, glaze-like icing for the flat look.
Sprinkles and Pearls
Use edible pearls on your cupcakes for a feminine look, or choose colored sprinkles to match the shower decorations. Make sure to let guests know that the decorations are edible, and make sure any tiny decorations are actually edible.
Fun With Fondant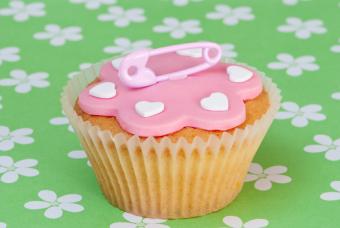 Fondant is a very versatile type of frosting with the consistency of chewy paste. It's easy to cut fondant shapes with cookie cutters or specialized fondant cutters. This cute little cupcake is embellished with a pink fondant flower, white fondant hearts, and a diaper pin made of sugar. Diaper pins, baby faces, and other baby shower cake decor can be ordered from any cake supply company.
Creative Presentations
A simply decorated cupcake can be made unforgettable with a creative presentation. Tuck cupcakes inside small white teacups, or put them in an unused votive candle holder and tie a pretty ribbon around the holder. These make great party favors for guests, especially if hostesses include a scented tealight for the votive holder.
Baby Shower Cupcake Cakes
Cupcakes can be clustered on a colorful plate, or stacked up on a cake stand for serving. Some baby shower hostesses have a main cake on a stand with coordinating cupcakes clustered underneath the cake on a round tray. Be creative, and enjoy thinking of ideas for creative baby shower cupcake cakes. Hostessing a baby shower is a big responsibility, but that doesn't mean it can't be fun!