Pictures of Wilton Baby Shower Cakes
Unique Baby Shower Cakes from Wilton
Pictures of baby shower cakes provide inspiration as you plan the shower menu. The right design can complement your theme and decorations in addition to providing a tasty dessert.
If you want a truly memorable shower cake, think beyond the usual rectangular cake pan. A tower of blocks creates a striking image while letting guests know exactly who is the focus of the celebration. This design is for those who appreciate details, from the cutouts of stars and ducks on the blocks, to the sprinkle of confetti on the base.
All images in this slideshow are courtesy of Wilton Enterprises.
A Delivery From the Stork
The stork has a special delivery. From the feathers on his wings to the bundle of joy carried in his beak, he's an image straight out of a picture book.
Happy Baby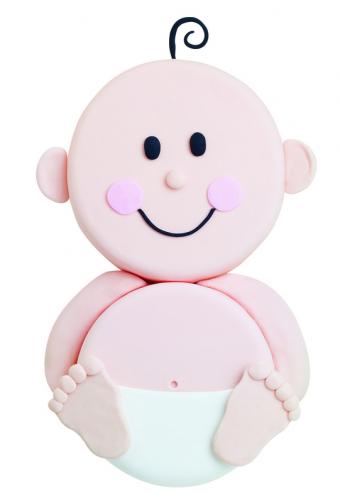 Let a smiling baby greet your guests. This design makes creative use of two basic circular cakes, and the fondant newborn will only serve to build anticipation for the arriving child.
Rubber Ducky
Impress your guests with a truly three-dimensional cake. This is one rubber ducky you won't want to take in the bathtub. The bright colors offer a refreshing alternative to the pastels so commonly used in shower decorations.
Teddy Bear Baby
A teddy bear is a common childhood toy, making it an ideal choice for a baby shower cake. The pastel background nicely highlights the frosting bear and adds to the impression that teddy is a baby settling down for a nap. Bakers could also use the blanket background with a different image.
Baby's First Bottle
Many pictures of baby shower cakes include pastries that are shaped like objects newborns commonly use. A bottle or rattle will instantly set the mood at a shower. If you know the gender of the soon-to-be-born baby, blue or pink is a perfect frosting choice.
Buggy Baby Shower Cake Picture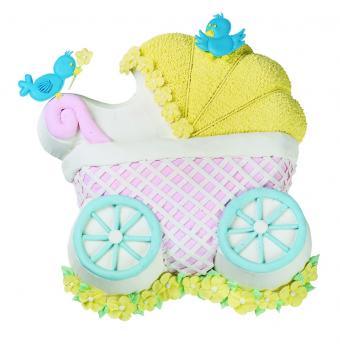 With its soft flowers and cheerful birds, this cake would be great for a spring baby. It is yet another design that draws inspiration from the common accoutrements of life with a newborn.
A Dazzling Gift
Don't put this cake too close to the gifts, or the guest of honor might accidentally try to open it! Pastel colors give this design a "baby shower" feel, while the unique construction shows that you don't always have to turn to the standard images of bottles, blocks and strollers.
Haven't seen enough? Check out more inspirational baby shower cakes.