Baby Shower Cupcake Ideas
For a different take on the traditional baby shower cake, celebrate the impending bundle of joy with smaller confections -- baby shower cupcakes! From fun presentations to serving several different cupcake flavors, there are thousands of ways to get creative with cupcakes for baby showers. Let these cupcake ideas spur your creativity for the perfect way to serve up this sweet treat at the shower.
Fantastic Fondant Cupcakes
Fondant frostings are for more than just wedding cakes; use this smooth, rolled frosting to create a sleek base for baby-themed cupcakes. Decorate with a variety of edible mini decorations like baby carriages, diaper pins, or baby animals for fun and delicious cupcakes.
Pretty Pastel Sprinkle Cupcakes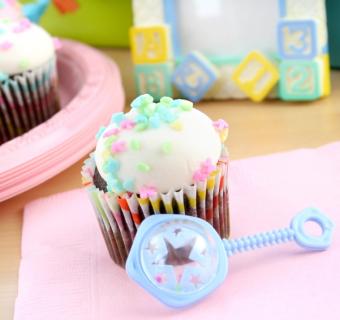 If you're looking for a quick, easy, and fun way to decorate cupcakes for a baby shower, you can't go wrong with decorated wrappers and pastel sprinkles. Themed baby cupcakes wrappers are available from some party stores, or simply choose a wrapper and sprinkles in similar pastel shades. Decorate the serving area with baby items in similar colors for a more pulled-together presentation.
Nursery-Themed Cupcakes
If the mother-to-be has a nursery theme planned, it can be incorporated into the shower cupcakes (or even the baby shower itself)! Get creative when looking for themed decor items. Specialty candy or tiny toys can be used as mini cupcake toppers for something cute and special that matches the nursery theme.
Sweet and Sophisticated Cupcakes
Baby shower cupcakes don't have to have blatently baby themed to be appropriate. Special touches like a dab of frosting in a pastel color, silver decorated balls, and sheer ribbon are sweetly elegant and make lovely cupcakes for the occasion.
Multiple Cupcake Flavors
Another advantage of using cupcakes for a baby shower is that it makes it easy to offer multiple flavors. Luscious flavors like lemon, mocha, and coconut can be served rather than a single cake or cupcake flavor. This is an especially fun cupcake idea for a baby shower when the mom is expecting multiples, as each flavor can represent the distinct personalities each precious little one is sure to have.
Bold Baby Boy Cupcakes
While pastels are often preferred for baby shower cakes, there's nothing wrong with opting for a stronger hue! Here the dark chocolate frosting pairs perfectly with the rich blue of the wrapper and sprinkles.
Cheery Cheesecake Cupcakes
Cheesecake is a beloved shower dessert, and for good reason. This rich, sweet treat becomes the perfect baby shower confection when served as miniature cupcakes. Decorate the serving plates with simple, gender-appropriate or themed items for added flair.
Creatively Colored Cupcakes
Colorful cupcakes in muted brights strike the perfect balance between sweet and sophisticated. Using simple but varied designs creates a festive look that's sure to add to the bright baby shower mood.
Modern Cupcakes for Baby Showers
Unique shapes, sleek frosting, and unusual flavors can add a touch of modern flair for the trend-setting baby shower.
There's no limit and no rules when it comes to cupcakes for the modern baby shower, so use your imagination! For additional inspiration, check out more baby shower cupcake cakes.