Start with the Tables
To create a beautiful baby boy theme, start with your table decorations. Baby blue napkins and table cloths add a pop of masculine color, while leaving a clear canvas for other themed decorations.
Baby Bottle Decorations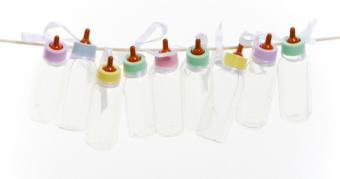 String several baby bottles on a piece or rope or ribbon to create a sweet and useful garland. For even more boy-themed fun, fill the bottles with light blue candies.
Boy Banner
Buy Now"
You can announce the good news to everyone at the baby shower using an "It's a Boy!" banner. This classic decoration makes a great focal point for your living room or at a restaurant. If you're hosting the shower outside, string it between two trees.
Blue and White Baby Sock Garland
There's nothing cuter than tiny baby socks, and you can channel this charm for your baby shower decorations. All you have to do is string a clothesline above the gift table or in any other focal point in the room. Then use clothespins to clip blue and white baby socks in a row. At the end of the shower, you can send the socks home with the mom-to-be for her new little man.
Balloons and Polka Dots
Buy Now"
You can create major decorative impact for your baby shower with a grouping of balloons. Choose varying hues of blue to add some variation to your theme. You can also go with whimsical polka dots to help add a fun flourish to the decor of the baby shower.
Whale-Themed Shower
Buy Now"
A whale-themed shower makes an adorable choice for welcoming a baby boy. To decorate, use whale-shaped balloons and add several shades of blue to your table decorations for an under-the-sea effect. You can also hang simple fish cut-outs from the ceiling to really enhance your decorating.
Vintage Toy Truck
A vintage-themed shower is a great way to celebrate a baby boy, especially if you decorate with little boys' toys from years gone by. You can create a stunning centerpiece with a baby blue vintage toy truck. Load up the back with diapers and other necessities and place it on the gift table or buffet.
Nautical Decorations
Buy Now"
You can create a nautical-themed baby shower with a few key decorations. Start with a ring-style life preserver that you can hang on the wall. Then add plenty of blue and white striped table linens and toy sailboats.
Up, Up and Away
Buy Now"
A hot air balloon makes a unique and exciting baby shower centerpiece. Choose a balloon in shades of blue and white, and hang it over the cake table. You can send it home with the mom-to-be after the party to help decorate the nursery.
Baby Boy Diaper Cake
A diaper cake makes an adorable centerpiece for you baby shower. Use blue ribbon and accessories to give the cake a baby boy theme. After the shower, the mom-to-be can take it home.
Get creative when it comes to baby boy shower decorations. No matter what you choose as a theme or decorating style, the mom-to-be will see the effort you've made and know that everyone is excited about her new little man.