7 Ocean Baby Nursery Ideas You'll Love
Sea Strands
Ocean baby nursery ideas can focus on anything and everything under the sea. Create a simple wall or doorway décor by creating strands of fish interspersed with shells. You can search for these online or create them yourself out of twine or rope and wooden, ceramic, or glass fish and shells.
Sea Aquarium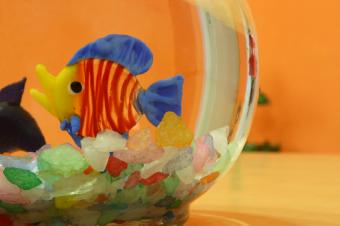 Create a nursery centered around an aquarium. Since you may not want to fool with the maintenance and care of real fish, why not create a colorful aquarium full of the fake kind? Place the aquarium in a prominent place with lots of whimsical fish inside.
Mermaids and More
How about painting a mural on one of the nursery walls featuring a mermaid, complete with treasure chest, fish, and shells? Purchase a large wooden or wicker chest to place it in the corner of the room. Fill it with soft toys that echo the ocean theme. Drape a fish net across one corner of the room to fill with more stuffed animals. Use shells at the corners of your curtains or as tiebacks.
Starfish Ocean Baby Nursery Idea
Incorporating seashells and starfish into your baby's nursery décor is a simple and clean way to bring the ocean inside and play up the seaside theme. This painted metal starfish makes a wonderful accessory. Picture a room bathed in white and blue, with white and natural colored starfish throughout. Hang accessories like this on the walls, from doorknobs, and over curtain rods.
Sailboats and Sunsets
Create an elegant ocean themed nursery by garnering inspiration from a beautiful painting. For example, this particular oil painting would look wonderful in a nursery featuring sailboats and sunsets. Choose furniture in either a natural look or a soft white. For a more formal look, choose darker woods, and play up the colors in the painting by repeating some of them on the walls and in bedding and accessories.
Whimsical Sailboat
Create a fun look in your baby's room, choosing whimsical accessories and designs like this sailboat picture. For a really bright look, consider painting the walls a bright yellow and add accents of green and blue.
Fishy Fun
Using a piece of cardboard or canvas, make a fun fish picture. Create the background out of large sections of felt, then cut out sea creatures using smaller felt pieces in a variety of colors. Add turtles, fish, seaweed, and anything else you can think of. The rest of the nursery can feature fun pictures, accessories, toys, and more!