Powerful Wiccan Baby Names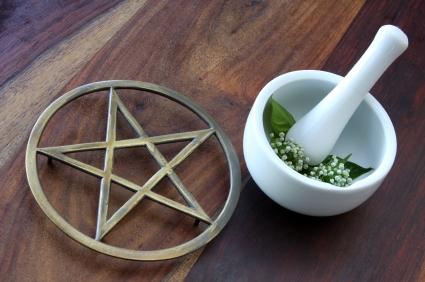 Wiccan baby names are often chosen for what they represent to the parents and for the baby. Choosing a Wiccan name is more than just haphazardly making up an unusual moniker; it's about finding inspiration from nature, gods, animals, and even the elements.
Finding Inspiration
Where can you find inspiration for choosing Wiccan names? This isn't an overnight decision. There are several methods that parents use in selecting a Wiccan name for their baby. They often spend time in prayer and meditation, and they may even perform several spell-casting sessions before finally selecting a name that is worthy of their child.
Wiccan names are often chosen based on their meaning or symbolism. That meaning may have a personal connection to the parents and/or the child, or it may simply appear as if the chosen name is simply the "right one."
What are some other ways to find inspiration in choosing a Wiccan name?
Pay attention to signs-What is the spiritual world telling you? What signs have occurred as you look for a name for your child?
Show gratitude-Give thanks as you pray for guidance in your journey to find your child's name.
State your intention-Make it known in a prayer, chant, spell, etc. that you want to select a Wiccan name for your baby.
Write, write, write-Journaling your thoughts, experiences, reflections, and prayers will allow you glimpses at the names that may be appropriate for your baby.
Open your mind-Preconceived notions can hamper the path to finding a name, so open your mind through meditation and/or prayer.
Consider your gifts and the potential gifts/talents of your child-What do you have to offer? What do you think will be special about your unborn child?
Choosing Wiccan Baby Names
In selecting Wiccan baby names, people often look towards nature, talents, elements, gods, and gemstones. The following is a list of popular baby names inspired by these characteristics.
Iris
Sage
Rowan
Wind
Rain
Mountain
River
Star
Moon
Forrest
Sun
Rose
Topaz
Emerald
Ruby
Opal
Pan
Rainbow
Aurora
Singer
Dancer
Weaver
Raven
Wolf
Wiccan Names A Through D
There are numerous names that could be referred to as Wiccan. The following list includes a portion of those names.
Adelle
Aether
Agate
Aidden
Aislin
Alaban
Amayia
Aqua
Arendl
Argent
Arwen
Aspen
Atlanshia
Avonia
Beryl
Blade
Bleumoon
Bloostery
Briania
Bronwyn
Brooke
Candyce
Carnelianne
Celeste
Cimerron
Cynnamon
Cyrocco
Damiania
Dawn
Derry
Dorianne
Drake
Drachen
Drakka
Dyami
Wiccan Names E Through N
Eeryris
Edgeworth
Ember
Fiona
Flora
Gem
Geode
Hades
Helia
Hypatia
Hyperioum
Indigo
Isaura
Jade
Kaida
Kegan
Lazarus
Leandra
Levianthan
Lilith
Luna
Lyra
Maeve
Marisa
Melodux
Morgana
Mysteria
Naidra
Needfyre
Nerini
Wiccan Names O Through S
OceaniaPayne Pearl Penelope Peta
Roane
Saffron
Sahara
Sangwuine
Sapphyre
Scarlet
Selena
Sierrya
Sky
Smokkey
Snowdeth
Sola
Solain
Soleil
Sophiax
Sprinx
Summer
Wiccan Names T Through Z
Talysus
Tamber
Tamra'a
Tara
Teigra
Terraian
Tiaret
Trorry
Urania
Valdeth
Varden
Verdantia
Viviane
Willow
Wynter
Zyphyr
---
Those unfamiliar with Wiccans often frown on giving Wiccan baby names to infants. However, the names are filled with beauty and symbolism. Because they are so unique, they often invoke an aura of protection and special meaning to the children who wear them. Considered odd by many, Wiccan names have gained in popularity in the last several years.
Keep in mind, however, that the name you choose for your child shouldn't encourage ridicule. Don't saddle him with a moniker that creates a label that will be difficult for him to overcome. There are many beautiful names, such as the ones listed above, that can connect your child to the Wiccan world without isolating him from others.